The Justice Department's Bureau of Justice Statistics (BJS) reported this week that the number of people held in US jails declined last year for the first time since 1982. The report did not address US prison populations. Nor did the report provide numbers on the offenses for which people were jailed. In both the prison and the jail populations, drug offenders are thought to comprise 20% to 25% of the population.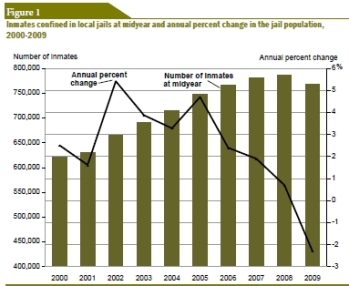 According to the report,
Jail Inmates at Midyear 2009 -- Statistical Tables
, the US jail population on June 30, 2009 was 767,620, down 2.3% from the previous year. The rate of jail population increase had been slowing since 2005, but last year was the first year jail population growth rates went negative.
Most of the decline occurred in large, big city jails. Two-thirds of the 171 large jails (more than 1,000 inmates) reported declines, while seven large jails reported a drop of more than 500 inmates, accounting for 29% of the nationwide decline. Declines in two Florida jails alone, Miami-Dade (down 1.090) and Orange County (down 944), accounted for more than 10% of the nationwide decline.
At mid-year 2009, about 60% of jail inmates were not yet convicted of any offense, but were awaiting trial. The remainder were either serving jail sentences or awaiting transfers to begin serving prison sentences. About 12.8 million people were admitted to local jails in the year ending June 30, 2009.
Whites represented 42.5% of all jail inmates; blacks represented 39.2%; and Hispanics, 16.2%. Those numbers are nearly unchanged from 2000.