Drug War Chronicle Book Review: Nicholas Schou, "Orange Sunshine: The Brotherhood of Eternal Love and Its Quest to Spread Peace, Love, and Acid to the World" (2010, St. Martin's Press, 305 pp., $24.99 HB)
Phillip S. Smith, Writer/Editor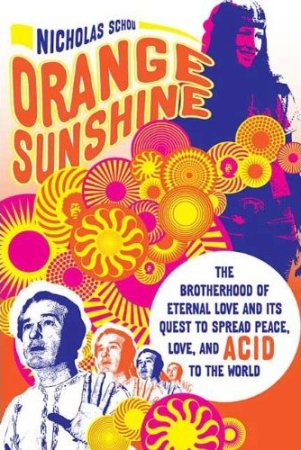 As a teenager in remote South Dakota in the late 1960s and early 1970s, I had friends who traveled to Southern California and returned bearing strange gifts indeed: Orange Sunshine brand LSD, hash oil called "Number 1," Thai sticks. I had no clue at the time I was becoming a participant in a messianic drug-selling venture that spanned the world from its headquarters in Laguna Beach, but it turns out I was. That stuff my friends brought back from California was all thanks to the efforts of a group of Orange County surf bums and trouble-prone working class kids who took acid, got religion, and set out to change the world.
They ended up calling themselves the Brotherhood of Eternal Love, and "Orange Sunshine" is their story. And what a story it is! Led by a charismatic Laguna Beach street-fighter and troublemaker turned acid-washed mystic named John Griggs (who later died after taking a massive dose of synthetic psilocybin), the Brotherhood adopted as its mission the turning-on of the whole planet. What is shocking is how far they came in achieving their goal.
By the time the Brotherhood went down in flames in a massive federal bust in 1972, it had manufactured and distributed untold millions of doses of its trademark Orange Sunshine, it had pioneered the smuggling of Afghan hashish to the US, it had smuggled massive amounts of Mexican weed into the US, it provided a strong impetus for the formation of the DEA, and, strangely enough, it had made possible Maui Wowie and the Hawaiian pot boom of the 1970s.
The story of Maui Wowie is worth recounting, given that it demonstrates the scope of the Brotherhood's operations and the avidity with which its members went about their business. Wanting to finance another massive Afghan hash deal, Brotherhood members bought a boatload of Mexican weed and took it to Hawaii to sell before heading on to Afghanistan for the second part of the deal. Trapped in an endless, drug-fueled party on Maui, the Brotherhood never completed that deal, but someone there crossbred the Mexican weed with some Afghan pot plants and -- voila! -- Maui Wowie was born, and so was the Hawaiian pot industry.
Relying on interviews with Brotherhood members and the police who chased them, as well as court and newspaper records, OC Weekly writer Nicholos Schou spent four years tracking down the story of the legendary group and telling it in a rollicking, page-turning fashion. In so doing, he also opens a window on the beginnings of the acid era and the cultural turmoil of the late 1960s.
What jumps out at contemporary readers is the naivete and innocence of the time. Griggs and the other Brotherhood members really believed that LSD could change the world -- it certainly changed their world -- and set out with missionary zeal to make it so. Yes, there was money to be made, but for the idealistic Brotherhood, money was not an end, but a means. In fact, the Brotherhood bragged that it had knocked the bottom out of the Southern California hash market intentionally, because prices were too high.
Of course, idealistic zeal could hardly compete with cash, and before long, the Brotherhood and its members were acting like any other dope dealers, more interested in the bottom line than in blowing minds. Such a trajectory seems preordained today, but at the time, the holiness of LSD was supposed to lead us past such materialistic traps. That it didn't hardly seems surprising now, and I suppose that shows how far we've fallen.
Idealistic zeal also had a hard time dealing with pressure and betrayal. While Brotherhood members stayed remarkably loyal for years, one of them eventually cracked under police pressure (and because of disaffection with a group that had drifted from its noble goals), allowing the feds to roll up their operation in 1972. And Timothy Leary, the apostle of acid, whom the Brotherhood worshipped and who stayed with the Brotherhood in Laguna Beach, also turned on it, spilling the beans to the feds after being arrested in Afghanistan. What made Leary's betrayal sting even more painfully was the fact that the Brotherhood had financed the successful Weatherman/Black Panther effort to break Leary out of prison after he had been busted in Laguna Beach.
"Orange Sunshine" is full of great stories, but my favorite has to be the Laguna Beach Christmas party in 1970, when 25,000 hippies headed for Laguna Canyon for a Woodstock-style event. On Christmas day, a cargo plane hired by the Brotherhood flew over the gathering and bombed the crowd with several tens of thousands of hits of Orange Sunshine. Now, that's what I call a party!
But all parties must come to an end, and that was true for the Brotherhood as well, although, despite bold pronouncements from the feds that they had broken the group in 1972, individual members of the Brotherhood kept at their dope-dealing trade for years afterwards. All in all, "Orange Sunshine" is an eminently readable trip down memory lane to the beginning of the contemporary drug culture and a fascinating look at how a small group of high-minded kids ended up changing the world.