In Philadelphia, three Philadelphia police officers were charged Tuesday with plotting to rip off 300 grams of heroin from a drug dealer and then sell it to another drug dealer. The problem was that the intended recipient was actually an undercover DEA agent. Officers Robert Snyder, 30; Mark Williams, 27; and James Venziale, 32, are charged with conspiracy to distribute heroin and related counts. Four other people, including Snyder's wife Christal and three alleged drug dealers are also charged. The plot began when Venziale met with a drug dealer in April and discussed a rip-off plan in which police would stage a vehicle stop to make it seem the drugs were being seized by law enforcement. The actual rip-off went down on May 14, when Williams and Venziale pulled over a vehicle occupied by the plotting drug dealer and an undercover agent. They pretended to arrest the drug dealer, then let the undercover agent drive off with the heroin. Later, they met up with the dealer, who paid them $6,000 for their work, as well as paying Christal Synder an unknown sum.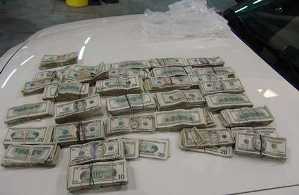 In Springfield, Tennessee,
a Tennessee Highway Patrol trooper was arrested Monday night
as he delivered illegal prescription drugs to a female acquaintance. Trooper Cesar Maldonado, 36, faces one felony count of delivery of a Schedule II controlled substance. He was caught delivering a quantity of Dilaudid to a woman waiting at the Springfield Inn. He is now on administrative leave and faces termination. He made $12,500 bond Tuesday morning.
In Morganton, North Carolina, a Caldwell County probation officer was arrested July 8 after being caught illegally delivering prescription pills. James Franklin, 44, is charged with felony trafficking in drugs, opiates by possession. He went down after a five-week investigation by the State Bureau of Investigation that ended with him delivering 120 hydrocodone tablets to an undercover officer. Bail was set at $100,000.
In Pittsburgh, Pennsylvania, a Pennsylvania parole officer was charged July 8 with trying to extort a parolee into stealing cash from a drug dealer's home and giving him the money. Paul Dschuhan, 44, is also accused of threatening to kill the parolee if he told authorities about the plot. Dschuhan is also a former state trooper. He faces federal charges.
In Williamsburg, Kentucky, a former Williamsburg police officer pleaded guilty July 8 to being a participant in a drug ring that peddled 10,000 Oxycontin tablets and burglarizing a pharmacy to score more. Kenneth Nighbert, 32, copped to a federal conspiracy charge and now faces up to 20 years in prison. He admitted to using his police cruiser to go to a pharmacy in February 2006, removing electrical meters in a bid to disable the alarm system, helping another man hook a chain to his SUV to pull the doors out of the pharmacy, and then stealing drugs. Nighbert resigned from the force in April 2006 after running into a woman's car in his cruiser while under the influence of drugs. He was arrested in Laurel County in May 2007 carrying a police badge, a loaded pistol, Oxycontin tablets, and $32,000 in cash, which he admitted he planned to use to pay drug debts and buy more pills. He's already done state jail time for that arrest.
In Roanoke, Virginia, a former Pulaski and Radford police officer pleaded guilty July 8 to federal charges he sold and used methamphetamine in his patrol car while in uniform and on duty. Christopher Bond, 32, copped to conspiring to distribute more than 50 grams of methamphetamine. Federal prosecutors alleged that Bond smoked meth in his patrol car with other users and at the homes of other users while in uniform, and that he bought large quantities of meth with other users. He faces a mandatory minimum five-year sentence and up to 40 years. He's free on $100,000 bond until his October 4 sentencing date.