Maryland state Sen. C. Anthony Muse (D-Prince Georges) has filed a bill, SB 30, that would prohibit Maryland police forces from conducting SWAT team raids on homes where the only suspected offense is a misdemeanor. The bill also requires county prosecutors to sign off on SWAT team search warrant applications before they are submitted to judges.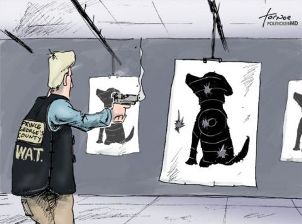 The bill is only the latest fallout from a July 2008 raid by the Prince Georges County Sheriff's Department SWAT team at the home of Berwyn Heights Mayor Cheye Calvo. The SWAT team was after a marijuana-filled box that had been delivered to that address, but subsequent investigation revealed that the mayor and his family were victimized in a smuggling scheme that used Fedex to ship drugs and knew nothing about the box, which had already been intercepted by police before being left on the family's porch. Mayor Calvo and his mother-in-law were cuffed and detained, and the two family dogs were shot and killed by SWAT team members.
Last year, the raid -- and the Prince Georges Sheriff's Department's refusal to acknowledge any wrongdoing -- led Sen. Muse to file the first bill in the nation to try to rein in aggressive SWAT teams. That bill, which required extensive reporting requirements on SWAT team deployments and results, passed into law and took effect January 1.
Muse's current bill had a hearing Tuesday in the Judicial Proceedings Committee. Law enforcement officials from across the state showed up to complain that the bill would add unnecessary steps to the warrant review process and threaten the safety of SWAT team officers. No vote was taken.