The Los Angeles City Council voted 9-3 Tuesday to approve a medical marijuana dispensary ordinance that, if enforced, will shut down more than 80% of the city's estimated nearly one thousand dispensaries. The ordinance also bars dispensaries from operating within a thousand feet of schools, parks, day care centers, religious institutions, drug treatment centers, or other dispensaries.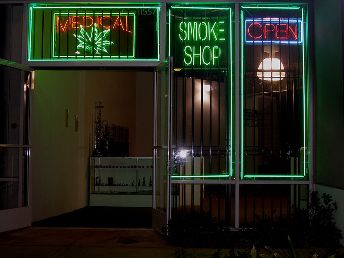 There were only four dispensaries in the city when the city council first addressed the issue in 2005, and 187 when the council imposed a moratorium on new ones in 2007. But hundreds of dispensaries opened via bureaucratic legerdemain during the moratorium, and more have opened since the moratorium was thrown out by a judge last fall.
The ordinance allows for only 70 dispensaries to operate in the city, but grandfathers in 137 dispensaries that were licensed before the council imposed the moratorium and are still in business. The number of allowed dispensaries could shrink even further if suitable locations that do not violate the 1,000-foot rule cannot be found.
The Council rejected another proposal that would allow for a 500-foot proximity restriction, and instead chose the 1,000-foot restriction, without analysis from the Planning Department showing the impact of such a decision. Some Council members objected to these restrictions, indicating that the current ordinance would effectively close all of the dispensaries in their districts. Advocates estimate that dispensaries will be unable to locate in virtually any of the commercial zones in the city and instead will be relegated to remote industrial zones, making it unnecessarily onerous for many patients.
The ordinance, which emerged after 2 ½ years of deliberations by the council, will be one of the toughest in the state. In addition to radically reducing the number of dispensaries and strictly limiting where they can operate, the measure imposes restrictions on hours of operation and signage, bans on-site consumption, and imposes recordkeeping requirements on operators.
"These are out of control," said Councilman Ed Reyes, chairman of the planning and land-use management committee, which oversaw the writing of the ordinance. "Our city has more of these than Starbucks," Reyes added, resorting to an increasingly popular if misleading trope.
But, reflecting the competing pressures the council was under from medical marijuana patients, advocates and dispensary operators on one hand, and law enforcement and angry neighborhood associations on the other, Reyes spoke sympathetically about patients just moments later. "I've seen enough people come into my committee, and you can see they are hurting," he said. "So this is very difficult."
Council President Eric Garcetti conceded that the ordinance will probably be revisited. "It's going to be a living ordinance," he said. "I think there is much good in it. I think nobody will know how some of these things play out until we have them in practice, and we made a commitment to make sure that we continue to improve the ordinance."
It will need to be revisited, said medical marijuana advocates. "I wouldn't be surprised to see this ordinance revised down the line," said Dale Gieringer, director of California NORML.
For Americans for Safe Access (ASA), passage of the ordinance signified a glass both half empty and half full. "On the one hand, it's a pretty significant milestone that the city of Los Angeles, the second largest in the country, has passed an ordinance regulating medical marijuana sales," said ASA spokesman Kris Hermes. "On the other hand, the ordinance is so restrictive it threatens to shut down all existing dispensaries."
Hermes was referring in particular to the 1,000-foot rule. "This is the most restrictive ordinance in terms of where dispensaries can operate we have seen anywhere in California," he said. "In theory, the city will have somewhere between 70 and 137 dispensaries, but because of the onerous restrictions on where they can operate, those numbers are virtually meaningless. We could see wholesale attrition lowering the number well below the cap."
"This recapitulates the pattern we've seen in Oakland, San Francisco, Santa Rosa and other places," said Gieringer. "You have a period of laissez faire, a green gold rush. At first, nobody notices, but then all of a sudden it gets ragged around the edges and the complaints pile up. By the time it gets before local authorities, the neighborhood outrage is such that it is almost impossible to do anything rational. So the first thing they do is pass a very draconian ordinance just to make sure they get rid of the nuisances."
The LA City Council's years-long regulatory process probably contributed to pent up pressures to rein in the dispensaries, Gieringer said. "It's a shame LA waited so long to pass an ordinance -- cooler heads could have prevailed."
While Gieringer could live with geographic restrictions on where dispensaries can locate, the 1,000-foot rule is too strict and too inflexible, he said. "There's no good rationale for the 1,000-foot rule, but there it is. Our position is that dispensaries should be treated like liquor stores, which have to be 600 feet from schools and parks, but not churches. And variances are allowed, and that's important."
It's one thing to pass an ordinance. Enforcing it is another matter entirely. With as many as a thousand dispensaries scattered around the city's 469 square miles, and a lengthy process required to shut down non-compliant operations, it is an open question how many dispensaries will just quietly ignore the new law. Also, enforcement will not begin until the city comes up with funding to pay for it, which will be derived from fees extracted from dispensaries -- a process the city has not yet finalized. And the 137 exempted dispensaries will have up to six months to relocate if they have to move to comply with the 1,000-foot rule.
"They're going to have a hard time enforcing it, first of all," said CANORML's Gieringer. "They have a bunch of places to close, and that will be a slow and expensive process. Freelance places are likely to spring up," he predicted. "There will probably also be a rush to unincorporated parts of Los Angeles County, where there are no such restrictions."
What enforcement will look like is another issue. "The city will try to issue cease and desist orders and hope dispensaries voluntarily comply," said ASA's Hermes. "It remains to be seen whether that will be the case. Hopefully, they will use measures other than criminal enforcement. We don't want to see a return to the tactics of the past, where law enforcement would come in and conduct aggressive raids to shut those facilities down. We hope we can work with the council before that happens so we can avoid having to close them in the first place."
The ordinance will be challenged one way or another. ASA is seeking a compromise with the city council, and is pondering whether to take legal action. In the meantime, a group of patients and providers is also taking about a legal challenge and about a local referendum. Only 27,000 signatures would be required to get a measure on the municipal ballot.