Medical marijuana has public support approaching motherhood and apple pie levels, while nearly half of Americans support legalization for personal use, according to a newly released national poll. According to the ABC News/Washington Post poll, 81% of Americans support medical marijuana, while 46% would be okay with legalizing marijuana for personal use.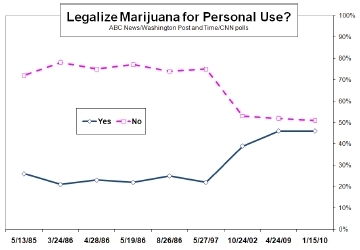 Support for medical marijuana is up from an already impressive 69% a decade ago, and 56% say that if medical marijuana is legal, doctors should be able to prescribe it to anyone they think it can help. That runs against the trend toward ever more restrictive medical marijuana laws being passed in the states. The New Jersey law that went into effect this week, for instance, allows marijuana for only a handful of severe illnesses.
As for legalizing personal use, the poll's 46% approval figure matches that of last spring's ABC News/Washington Post poll. As recently as 1997, legalization polled at 22%, then shot up to 39% in 2002 before beginning to level off last spring.
That puts this poll in line with other recent polls on legalization. Zogby polled 44% in favor in February and 52% in April. That same month, Rasmussen had support for "taxation and regulation" at 41%, while a July CBS News poll had support for legalization at 41%. In October, Gallup had 44% for legalization -- its highest percentage ever -- while a December Angus-Reid poll had 53% supporting legalization.
For adults under age 65, support for legalization was at 51%, while only 23% of senior citizens approved. Across the political spectrum, legalization was the majority position among liberals (63%), moderates (53%), and Democrats (53%), while only 49% of independents, 32% of Republicans, and 30% of conservatives approved.
But medical marijuana's support transcended political and party lines. Even 68% of conservatives approved, as did 72% of Republicans, 85% of Democrats and 90% of moderates and liberals.
A solid majority (56%) said marijuana should be made available to any patient for whom a doctor has prescribed it, while 21% thought it should be limited to terminal patients and another 21% thought it should be limited to serious illnesses. Not surprisingly, people who did not favor medical marijuana in general were more likely to favor restricting its medical use, with 75% of that group saying it should be limited to seriously or terminally ill patients. Among those who approve of medical marijuana, 63% would rely on the doctor's judgment.
This latest poll only adds to the growing mound of evidence suggesting that support for marijuana legalization is hovering at the cusp of majority approval. It also indicates strongly that support for medical marijuana is non-controversial, and one could even suggest that politicians who oppose medical marijuana do so at their own risk.