In 2006, voters in South Dakota become the first -- and the only -- in the nation to reject a state initiative legalizing medical marijuana, defeating it by a margin of 52% to 48%. This year, they will have a chance to reconsider. The South Dakota Coalition for Compassion announced this week it has gathered enough signatures to put its medical marijuana initiative on the November ballot.

Advocates need 16,776 valid signatures of registered voters to qualify for the ballot. The coalition says it has collected more than 30,000 signatures, far more than what is generally considered necessary to make up for the inevitable invalid signatures.
The coalition had planned to turn the signatures in to the South Dakota secretary of state Wednesday, but icy highways forced a change of plans. Now, organizers will make the 200-mile trip from Sioux Falls to the state capital in Pierre Monday, providing roads are passable.
The initiative, which was crafted with the help of the Marijuana Policy Project in Washington, DC, would enable people suffering from cancer, glaucoma, HIV/AIDS, multiple sclerosis, or Alzheimer's disease to qualify to use medical marijuana upon a doctor's recommendation. So could people suffering from cachexia or wasting syndrome, intractable pain, severe nausea, and severe or persistent muscle spasms. The initiative contains a provision that would allow the state Department of Health to add other conditions to the list.
The Health Department would issue registration cards to patients and caregivers once a patient presents a written recommendation from a physician. Patients could possess up to one ounce of usable marijuana and grow up to six plants, or they could designate a caregiver to grow for them. Caregivers could grow for no more than five patients. There is no provision for dispensaries.
Under the initiative, patients who have registration IDs or other proof they are bona fide medical marijuana patients from other states could use medical marijuana in South Dakota. Schools, employers, and landlords would be barred from discriminating against patients or caregivers unless they were bound to by federal law or would lose federal funding. Similarly, medical marijuana patients could not be discriminated against on organ transplant lists.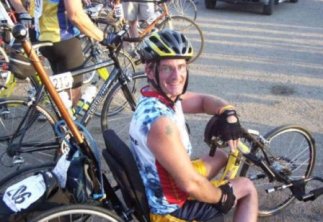 Coalition director Patrick Lynch, a former chairman of the board for the North Central States Chapter of the Multiple Sclerosis Society, was driven to support the effort by his own experience and the suffering of others. "I am an MS sufferer," he said. "We're doing this out of compassion for patients, for other people who are going through the same thing I am."
Lynch was optimistic that a medical marijuana initiative could win this time around. "We only got beat by four points last time, and I feel real good about it passing this time," he said. "People are more educated and informed now. The response we've had has been overwhelming. I think this is going to happen."
The South Dakota legislative session just opened, but it is unclear whether anyone will sponsor a medical marijuana bill this year. Repeated efforts to pass a medical marijuana bill in Pierre going back to 2001 have all been throttled by hostile committee chairs, and last year was no exception.
"We wanted to give the legislature one last chance to act and save the state the money of holding the election, but unfortunately, our support in the legislature has been deteriorating," said Emmett Reistroffer, chief petitioner for the coalition. "We were really banking on the Democrats, but their leadership has not been friendly."
Reistroffer said the Democratic leadership was pressuring last year's bill sponsor, Rep. Martha Vanderlinde (D-Sioux Falls), not to sponsor a bill this year. "If she decides not to sponsor it, that could be the end of our efforts in the legislature. Vanderlinde comes from the most medical marijuana-friendly district in the state and is a nurse, so it wouldn't hurt her viability, but the Democratic leadership worries that if it got out of committee, Democrats would have to vote on it, and they don't want to do that," he said.
Reistroffer proudly pointed out that the signature-gathering campaign was completely financed by in-state money, primarily from business owners in the state's two largest cities, Sioux Falls and Rapid City. But he hopes to attract some outside funding from national reform groups for the fall campaign.
"We want to launch a very aggressive yet compassionate public education campaign, so that patients and professionals can engage other people in the community in discussion, especially older folks," he said. "We want them to understand that we are interested in the day-to-day relief of suffering, not in getting high. We've been communicating with MPP, and we're hopeful they will help fund advertising for the campaign."
"We were there for the 2006 campaign where we came up just short," said MPP's Steve Fox. "We're going to see how it goes, probably do a poll at some point, and then figure out if and how we will be able to help. They only need two points to get over the top."
One feature of the 2006 effort was organized opposition led by then Attorney General Larry Long (R). Long mobilized law enforcement to speak out against the measure and worked with the Bush administration to bring an official from the Office of National Drug Control Policy (ONDCP) to Sioux Falls to campaign against it.
The Obama era ONDCP is unlikely to be out campaigning against medical marijuana initiatives, and Reistroffer was hopeful that Long's successor as attorney general, former US Attorney for the Eastern District of South Dakota Marty Jackley, would be less recalcitrant.
"Jackley has already signaled more progressive drug policies as part of his program," Reistroffer said. "He announced he wants to create a program to send prescription addicts to treatment, not jail. He is already looking at drug policy as a health care matter more than a law enforcement matter."
But Jackley threw cold water on Reistroffer's hopes in a Wednesday interview with the Associated Press. While saying he had yet to have an official position on the initiative, Jackley trotted out familiar law enforcement plaints.
In states that allow medical marijuana, he said, police have problems distinguishing between those who can legally use it and those who "hide" behind medical marijuana laws so they can smoke for non-medical reasons. "It essentially becomes complete authorization of marijuana use," Jackley claimed.
And he claimed that marijuana use leads to violence. "As a prosecutor, I've seen the adverse effects that marijuana can have on certain personalities," the attorney general said. "We've experienced violent crimes associated with the use of marijuana."
Once the signatures are turned in Monday, the secretary of state has 45 days to certify the initiative for the ballot. Look for the battle to begin in earnest then as South Dakota vies to become the first state in the Upper Midwest to become medical marijuana-friendly.