A sticky-fingering, meth-snorting cop goes away for awhile, and a trio of jail guards get in trouble. Let's get to it: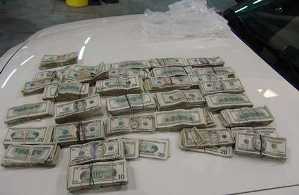 In Glendora, California,
a former Glendora police officer was sentenced Tuesday
to six months in jail, three years of probation, and a 24-month drug rehabilitation program after pleading no contest to grand theft and methamphetamine possession charges. Timothy Radogna, 34, was arrested in May in an "integrity sting" after superiors received reports he was failing to book drugs and cash into evidence. Police left meth and $1,000 in cash in a bait car, and Radogna took the bait. He could have gotten up to nine years.
In Beaumont, Texas, a former Texas Department of Corrections guard pleaded guilty Monday to trying to smuggle drugs and a cell phone into the Stiles Unit in his lunchbox. Eric Talmore, 25, copped pleas to bribery and having a prohibited substance in a correctional facility. He got busted with tobacco in his socks, rolling papers in his underwear, and marijuana and a cell phone hidden inside a container of fried rice. He faces up to 30 years in prison when sentenced on February 16, but his attorney is asking for probation.
In Manchester, Kentucky, a Clay County Detention Center guard was arrested Sunday on charges she smuggled drugs to inmates in the jail. Guard Dawn Hayes, 31, fell prey to an undercover investigation by the County Sheriff's Office, taking drugs to be smuggled into the jail from a confidential informant. Hayes is currently residing at her place of employment.
In Chesterton, Indiana, an Indiana State Prison guard was arrested January 2 for trying to smuggle tobacco and marijuana into the prison. Barb Roseborough, a nine-year veteran, got caught when prison staff found a package wrapped in electrical tape hidden in the lining of her bag as she reported for work. A second package was later found hidden on her person. She has been charged with trafficking with an offender and felony marijuana possession. She faces from two to eight years on the first count and up to three years on the second. At last report, she was being held at the LaPorte County Jail.