With a 46-30 vote Thursday, the New Jersey Assembly gave final approval to a bill that will end mandatory minimum sentences for some "drug free zone" drug offenses. The bill passed the Senate in December. Outgoing Gov. Jon Corzine (D) has said he will sign the bill into law. When that happens, New Jersey will become the first state to roll back a mandatory minimum school zone law.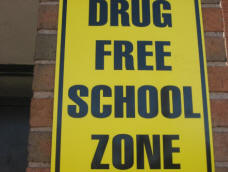 Under a sentencing law in place since 1987, drug offenses that occurred within 1,000 feet of a school incurred mandatory minimum sentences of one to three years. Critics had argued for years that the law had a disproportionate impact on minority inner city residents and that it unnecessarily filled the state's prisons with low-level drug offenders who could be better served by drug treatment. The state spent $331 million last year to imprison drug offenders.
The bill just passed, A2762, would allow judges the discretion to impose a lesser sentence or probation, depending on whether school was in session, how close to a school it was, and whether children were present. Mandatory minimums would stay in effect if the offense took place on school grounds or involved violence or a gun.
According to the state Department of Corrections, 69% of drug offenders doing time are doing mandatory minimums. This bill will allow those doing mandatory minimums for school zone offenses to appeal those sentences.
"The mandatory minimum sentencing the zones require has effectively created two different sentences for the same crime, depending on where an individual lives," said Assembly Majority Leader Bonnie Watson Coleman (D-Mercer), one of the bill's cosponsors. "This is geographic discrimination at its most basic."
"This is a progressive solution to a complex problem," said Assemblyman Gordon Johnson (D-Bergen), another cosponsor.
The legislature's action won praise from sentencing and drug policy reform groups that were part of a broad coalition to pass the bill. "Families Against Mandatory Minimums (FAMM) commends the legislative leaders who fought for smart on crime sentencing policies in New Jersey. State lawmakers are increasingly disenchanted with ineffective and costly mandatory minimum sentences for nonviolent, drug-related offenses and are turning to policies that allow the courts to individualize punishments based on the facts of each case. This move signals a better course for New Jersey, and fairer sentences for low-level, nonviolent drug offenders," said Deborah Fleischaker, FAMM's director of state legislative affairs.
Roseanne Scotti, director of the Drug Policy Alliance New Jersey office, said the vote signals a new willingness on the part of elected officials at both the state and national level to reform failed sentencing and drug policies.
"At one time, these types of mandatory minimum laws were considered untouchable," said Scotti. "But there is a growing public backlash against these failed policies and a growing willingness on the part of elected officials to address the mistakes of the past."