Sheriffs gone wild, narcs gone greedy, a jail guard gone horny, and a couple of jail guards gone dumb. Let's get to it: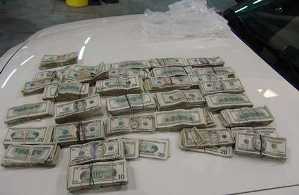 In Murphysville, Illinois,
a county sheriff already jailed on marijuana sales charged was arrested again
, this time on solicitation of murder charges. Gallatin County Sheriff Raymond Martin, his wife, and his 20-year-old son were all arrested and are being held on one million dollar bonds. Officials have not said if the murder for hire plot is related to the marijuana charges. The trio will have preliminary hearings on the murder conspiracy charges on January 26.
In Mineola, New York, a Long Island corrections officer was arrested December 30 for extorting sexual favors from female inmates. Mark Barber is accused of using his position as grievance officer for the Nassau County Correctional Center to engage in various sexual activities for females. Authorities said Barber targeted inmates with histories of drug abuse, prostitution, or mental health issues. He faces various counts of rape, sexual abuse, and forcible touching and could get up to 16 years in prison if convicted.
In Eufala, Alabama, the Eufala Police narcotics division commander was arrested December 29 for allegedly stealing money that had been seized and was awaiting an asset forfeiture hearing. Lt. Stephen Hanners went down after $20,000 went missing and investigators soon zeroed in on him. He is charged with first degree theft of property. Hanners resigned upon his arrest.
In Lexington, South Carolina, a Lexington County jail guard was arrested December 31 for bringing marijuana and cigarettes to a prisoner. Guard Phillip Fields was accused of conspiring with a woman who was also arrested. The woman left the contraband in Fields' car while he was at work, then he would retrieve the goodies during his shift and smuggle them into the jail. He got busted bringing the contraband in. Fields is charged with two counts furnishing contraband to a prisoner and furnishing drugs to a prisoner, two counts of misconduct in office, and one count of marijuana possession.
In New York City, a Rikers Island jail guard was arrested last Friday as she tried to smuggle drugs, alcohol, and tobacco into the prison. Guard Teneya Griffith, 25, went down after fellow corrections officers went to authorities about their suspicions she was compromised. She got caught with two ounces of weed, three water bottles filled with vodka, and tobacco and cigarettes. According to prosecutors, Griffith was to earn $800 to $900 for her efforts. She is charged with first degree felony promoting prison contraband, misdemeanor promoting prison contraband, marijuana possession, and official misconduct. She faces up to seven years for the felony.