Maybe the voters won't have to take things into their own hands this November in California after all. Assemblyman Tom Ammiano (D-San Francisco) has reintroduced his marijuana legalization bill, the Marijuana Control, Regulation and Education Act (AB 2254).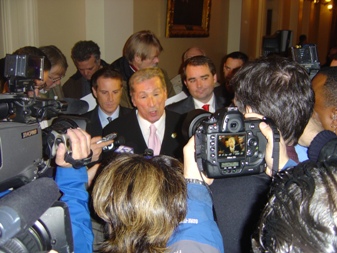 In a historic first, last session's version of the bill won a
4-3 vote in the Assembly Public Safety Committee
-- the first time any legislative committee anywhere in the country has approved marijuana legalization legislation. But the bill failed to get to the floor before the consideration deadline passed.
The bill would "remove marijuana and its derivatives from existing statutes defining and regulating controlled substances" and would instead provide for the Department of Alcoholic Beverage Control (ABC) to regulate the possession, sale, and cultivation of the herb by people 21 or older. The bill would not affect California's existing medical marijuana law (except perhaps to render it unnecessary).
Under the bill, the ABC would regulate wholesale and retail sales. A special fee would be imposed, with proceeds going to fund drug abuse prevention programs. The bill would also "ban state and local assistance in enforcing inconsistent federal and other laws relating to marijuana."
"It is time to acknowledge that the existing model of prohibition has failed, and that California is long overdue for a public policy for the control and regulation of marijuana that reflects the reality of what is happening in our state," Ammiano said.
Marijuana is California's largest cash crop, with an annual estimated value of $14 billion. In evaluating last session's version of Ammiano's bill, the state Board of Equalization estimated that taxes generated under a legalization and regulation scheme could generate more than $1 billion a year.
"The fact that California's largest cash crop continues to go untaxed and unregulated is astounding, especially in such tough economic times," said Marijuana Policy Project California policy director Aaron Smith in a statement welcoming the bill. "We once again applaud Assemblyman Ammiano on his dedication and leadership on this issue and remain optimistic that 2010 is the year California ends its state's failed marijuana policies."
If the California legislature fails to act this year, it looks extremely likely that the voters will have a chance to vote for legalization in November. Organizers of the Tax Cannabis 2010 ballot measure last month turned in nearly 700,000 signatures, more than 250,000 more than then 434,000 valid signatures needed to make the ballot. That measure awaits certification by state election officials.