Colorado's burgeoning medical marijuana community is up in arms after a series of DEA raids in recent weeks. First, DEA agents hit medical marijuana laboratories in Denver and Colorado Springs that tested for THC levels and contaminants such as mold. Then, late last week, DEA agents raided and arrested Highland Park medical marijuana grower Chris Bartkowicz after he appeared in local media talking about his grow operation.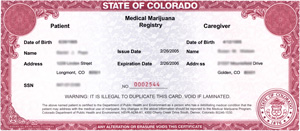 While no charges have been filed against the lab operators, Colorado US Attorney David Gaoutte announced Tuesday that he would prosecute Bartkowicz, who now faces up to 40 years in federal prison for his efforts. The pattern is similar to that seen previously in California, where DEA often raided dispensaries, but federal prosecutors only prosecuted some of those raided.
The DEA actions appear to fly in the face of Obama campaign promises to stop the raids. Those promises were, the medical marijuana community thought, kept when Attorney General Eric Holder issued a Department of Justice memorandum instructing federal officials to lay off medical marijuana in states where it is legal -- unless the provider is violating both state and federal law. That memo went out to all US Attorneys, as well as acting DEA administrator Michele Leonhart, who has since been nominated to be the permanent administrator of the agency.
The October Justice Department memo said the feds should not go after people in "clear and unambiguous compliance with existing state laws providing for the medical use of marijuana." The memo said nothing about "large grows" or testing labs not being included.
Denver DEA Special Agent in Charge (SAC) Jeffrey Sweetin at first sounded as if he had missed the memo. In an interview last Saturday with the Denver Post he threatened to go after the state's rapidly increasing number of medical marijuana dispensaries. "Technically, every dispensary in the state is in blatant violation of federal law," he said. "The time is coming when we go into a dispensary, we find out what their profit is, we seize the building and we arrest everybody. They're violating federal law; they're at risk of arrest and imprisonment."
In an interview with Denver's TV 9 News, Sweetin carried on in the same vein, saying that even though state law allows for medical marijuana, federal law does not. "We will continue to enforce the federal law. That's what we are paid to do," he said.
Sweetin said the Justice Department guidelines give him discretion. "Discretion is: I can't send my DEA agents out on 10-plant grows. I'm not interested in that, it's not what we do. We work criminal organizations that are enterprises generating funds by distributing illegal substances," Sweetin said.
By Tuesday, though, Sweetin was singing a slightly different tune in an interview with Westword. "We are not declaring war on dispensaries," he said -- though he added with a laugh, "If we were declaring war on dispensaries, they would not be hard to find. You can't swing a dead cat around here without hitting thirty of them."
Sweetin also took a pot shot at Denver medical marijuana attorney Robert Corry, who filed a complaint with the Department of Justice inspector general's office alleging waste, fraud, abuse, and misconduct against the department and the DEA. The complaint asks the inspector general to sanction Sweetin and the other agents involved.
People like Corry and others critical of the raids are doing people a disservice, Sweetin said. "I think the people who claim to represent marijuana growers in this state are trying to create this fear, and I think that's sad," he said without a trace of irony.
The question facing Colorado's medical marijuana community is whether Sweetin has gone off the reservation or whether the raids represent a shift in the Obama administration's approach to medical marijuana in the states where it is legal.
"It's hard to say whether it's a rogue law enforcement effort limited to Colorado or whether we have something to worry about in regards to not keeping the promise made by the Justice Department memo last October," said Kris Hermes, spokesman for the medical marijuana advocacy group Americans for Safe Access. "It's worth noting that two days before the first lab raid that President Obama nominated Michele Leonhart to head DEA. She's already acting administrator, a holdover from the Bush administration, but it was alarming to activists and advocates to find out we were going to get more of the same. She was the deputy administrator under Karen Tandy when the DEA carried out more than 200 aggressive raids against the people of California," he said.
"It seems like a rogue office," said Brian Vicente, leader of the marijuana law reform group Sensible Colorado. "Sweetin is saying marijuana is not a medicine as if he were a doctor, and the US Attorney is following his lead to prosecute the providers. This is very concerning. Sweetin has long been an absolute enemy of marijuana, and now, an enemy of Colorado voters, who voted for medical marijuana."
"Hopefully, this is just an instance of rogue law enforcement, and Obama and Holder will rein it in, but we're not waiting to find out," Hermes said. "We are right now preparing an alert to members to write to the administration expressing their frustration with the DEA's apparent failure to comply with Justice Department policy."
Vicente and dozens of other Sensible Colorado members and medical marijuana patients spent part of Thursday protesting the raids in front of the building where President Obama happened to be making an appearance. "There were probably 75 of us protesting and handing out literature aimed at alerting Obama to these rogue actions and calling on him to tell these agents to quit going after our patients and providers," he said. "We handed out flyers to everyone in the 1,000-person line waiting to get into the event, and we got considerable press coverage."
The Colorado medical marijuana movement is also gearing up against the looming threat, said Vicente. "We're working with a number of local and national groups to establish a firm emergency response plan like they did in California," he said. "We're somewhat fearful that Colorado may become a new DEA focus, and we want to be an organized presence."
As for grower Bartkowicz, who now faces federal drug dealing charges, his case should be dealt with in the state courts, not the federal courts, said Vicente. "We're not sure if he was or wasn't in compliance with state law, but we think the only place where that question could be fairly litigated is state court. The federal courts don't even recognize medical marijuana and are thus unequipped to determine if someone is in compliance with state law. We are asking them to drop the federal charges and let the state courts sort it out."
"I've seen no evidence of a violation of state law," said Hermes. "If there is no violation of state law, defense attorneys should be able to go to federal court and point to the memo and say the Justice Department should comply. The spirit of the policy is to stay out of enforcement when people are complying with state law. By that token, no federal charges should have been filed."
The war over medical marijuana is far from over. But now, it looks like the new battlefield could be Colorado.