A dope-dealing probation officer, a detective who buddied-up to a dope dealer, and a sticky-fingered small town cop make the roll-call of dishonor this week. Let's get to it: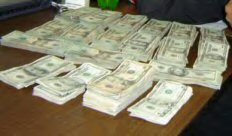 In Cranston, Rhode Island,
a juvenile probation officer was arrested Tuesday
after police said he sold heroin to an undercover officer. Michael Ayer, 49, faces two counts of delivering heroin to a police officer. He went down after the State Police High Intensity Drug Trafficking Task Force got a tip from an informant last month. He allegedly made repeated heroin sales to the undercover officer, and did so using his state vehicle and his state-issued cell phone. There is no indication Ayer peddled any dope to his probationers.
In Santa Fe, New Mexico, a Santa Fe police detective has been recommended for termination after he was caught on an FBI tape promising to provide a gun to a drug dealer "who clearly conveyed his intent to commit murder," according to police documents. Detective Jose Valencia, who headed the police union at the time of the taping, is also accused of providing an undercover narc's description to the drug dealer and making disparaging remarks about fellow officers. Valencia faced a hearing Thursday to revoke his certification as a law enforcement officer in New Mexico. That decision will be made next month.
In Moab, Utah, a former Moab police officer was arrested February 4 for stealing $900 in drug bust proceeds from his own police station. Edward Guerrero, 43, faces burglary and theft charges in the break-in, which occurred last August.