The US Senate December 22 unanimously confirmed Michele Leonhart as DEA adminstrator. Leonhart, a long-time DEA veteran, had served as acting administrator since late in the Bush administration and was nominated to head the agency by the Obama administration.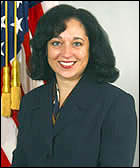 Drug reformers and concerned others had attempted last this year to block her nomination, citing her supervision of numerous raids on medical marijuana providers when she was Special Agent in Chief in Los Angeles, her refusal to allow a Massachusetts academic permission to grow marijuana for research purposes, and her unsavory relationship with former DEA "supersnitch" Andrew Chambers.
But those efforts got no traction in the Senate Judiciary Committee, where senators failed to ask a single tough question raised by reformers. The only flak Leonhart got in the committee was from Sens. Patrick Leahy (D-VT) and Herb Kohl (D-WI), who complained about strict DEA drug diversion programs that made it difficult for seniors in nursing homes to receive pain medications in a prompt and timely fashion.
Kohl went so far as to announce a hold on her nomination to block a floor vote because of the issue, but although Leonhart refused during her confirmation hearing to tell him when the DEA would respond on the issue, Kohl lifted the hold before the vote, allowing her confirmation to go ahead.