More crooked prison and jail guards get busted, another sticky-fingered cop goes down, so does a Rio Grande Valley lawman, a former California Highway Patrol trooper is in big, big trouble, and a small-town Texas police force has troubles in the dope squad. Let's get to it: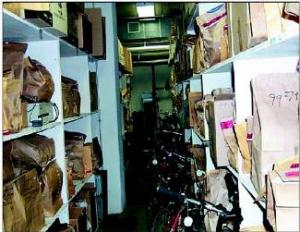 In Pharr, Texas,
a former Pharr Police officer was indicted July 29
on charges he escorted carloads of cocaine through Pharr in his police cruiser. Former Officer Jaime Baes, 33, is allegedly the nephew of a high-ranking member of the Mexican Zetas and he is also accused of being part of a weapons smuggling operation that sent military-grade bulletproof vests, guns, and grenades stolen from a Corpus Christi naval base south of the border.
In Anchorage, Alaska,
a state prison guard was arrested July 29
as part of a major drug trafficking conspiracy that smuggled cocaine, heroin, marijuana, and syringes into the Anchorage jail and distributed them to inmates for sale. Patrick Sherman, 46, was one of nine people indicted by a federal grand jury in the scheme that involved drugs smuggled in coolers and money laundered in Central America. Sherman faces a drug trafficking conspiracy charge. He is out on $10,000 bond.
In Felicity, Ohio,
a Felicity police officer was arrested on July 30
for allegedly stealing drug and property evidence he seized during arrests, but which never made it to the evidence room. Captain Delmas Pack, 42, a 16-year veteran of the department, is charged with tampering with evidence and is looking at up to five years in prison. He went down after a sting conducted by multiple law enforcement agencies. He's now out on bond.
In Graceville, Florida,
two guards at the Graceville Correctional Facility were arrested July 30
for allegedly attempting to smuggle marijuana and cell phones into the prison. Guard Tyler Daniels, 24, is charged with two counts of conspiracy to introduce contraband into a secure facility and attempt to introduce contraband into a secure facility. Guard Mathew Crawford, 23, is charged with conspiracy to introduce contraband into a secure facility. The pair went down after someone snitched them out to a local drug task force, which set up a sting on Daniels, who was doing the actual smuggling. Crawford was charged for helping Daniels bypass metal detectors and searches when the pair arrived at the prison for work. They are currently suspended from Graceville Correctional pending resolution of their cases.
In Auburn, California,
a former California Highway Patrol officer pleaded not guilty July 30
to solicitation of murder for trying to pay $10,000 to get a police informant killed. Ruben Salgado, 37, had been arrested in May on methamphetamine sales and gun charges and allegedly tried to arrange for the killing of the snitch who sold him meth that month. He has been held without bail since he was arrested July 14 on the solicitation charge. The 12-year veteran resigned from the department in June.
In Mt. Pleasant, Texas,
three Mt. Pleasant police officers are on leave and one has been arrested
following a federal investigation. All three worked in the department's dope squad. The officer arrested, Joshua Hatfield, is accused of selling a firearm and ammunition to an illegal alien and a person indicted for a felony. The other two officers have not been named. The US Attorney's Office said it cannot comment on an ongoing investigation.