New Jersey medical marijuana patient John Wilson walked out of Southern State Prison Thursday, freed on bond while he appeals his five-year prison sentence for growing his own medicine. Wilson was convicted in December of manufacturing marijuana for growing 17 plants and possession of hallucinogenic mushrooms. The following month, New Jersey became the 14th state to approve medical marijuana. That law will go into effect August 1.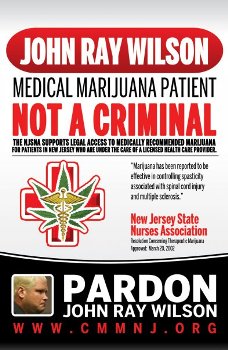 Wilson, a 37-year-old with multiple sclerosis, had served five weeks of his prison sentence in a succession of local and state jails and prison when a court ruled Monday he could be freed on bond pending appeal. It took until Thursday for his family to come up with the $15,000 cash bail.
During his trial, Wilson was blocked from entering evidence about his medical condition or telling jurors he was growing marijuana to treat it. That is the issue that will be heard on appeal.
Wilson's case garnered media attention, thanks in part to its curious juxtaposition with the Garden State's move toward medical marijuana and thanks in part to supporters organized by the Coalition for Medical Marijuana-New Jersey, which organized demonstrations at the Somerset County Courthouse. "People with MS who seek cannabis therapy should not be in prison," said the group's Chris Goldstein.
Medical marijuana supporters Sens. Raymond Lesniak and Nicholas Scutaria have called for Gov. Chris Christie to pardon Wilson.
Until then, Wilson finds himself in something of a medical predicament. He told the Associated Press upon his release that he was not going to use medical marijuana until it becomes legal this summer. "Whenever they open the program, I would register and abide by the law," Wilson said. "You know what I mean." But in the meantime, he can't afford his $3,000 a month MS medicine.