A new poll by the Pew Research Center for the People and the Press has found that nearly three out of four Americans (73%) support legalizing the medicinal use of marijuana, while fewer than one out of four (23%) oppose it. Support is broad and solid, spanning all major political and demographic groups, and is equally high in states that do and do not already have medical marijuana laws.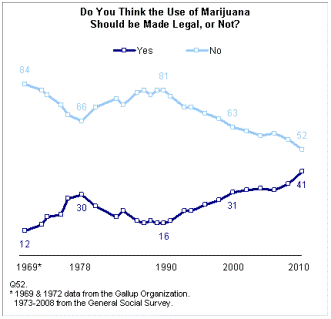 The poll comes with 14 states and the District of Colombia, representing about one-fourth of the US population, already having approved medical marijuana. Several other states, including New York, South Dakota, and Wisconsin could join the list this year, and medical marijuana has been an active issue in another dozen or so state legislatures this year.
The poll identified concerns about medical marijuana. Nearly half (45%) of respondents said they would be "somewhat concerned" or "very concerned" if a medical marijuana dispensary opened in a local retail district, and about the same number (46%) said that allowing medical marijuana made it easier for people to obtain marijuana even if they didn't have a legitimate need. But only 26% said that bothered them. Not surprisingly, opponents of medical marijuana legalization were most likely to cite such concerns.
When it comes to general marijuana legalization, support is much lower than for medical marijuana and is still a minority position. The Pew poll found that 41% or respondents supported legalization, while 52% opposed it. The good news is that figure is the highest since Pew started polling on the question in 1969 and it continues a steady upward climb in the past two decades.
After support for legalization peaked at 30% in 1978, then bottomed out at 16% in 1990, support grew steadily, surpassing the 1978 level in 2000 (31%), and reaching 38% in 2008. It has grown by three percentage points in the last two years. The Pew numbers are similar to a Gallup Survey conducted last October that showed 44% support for legalization.
Unfortunately, the Pew poll does not contain a regional breakdown of support. In California, an initiative has already made the ballot; in Oregon and Washington initiatives are still in the signature-gathering stage.
The polling reveals significant demographic divides. A majority of under-30s (58%) support legalization, while support declining steadily with age. For those 30 to 49, support was at 42%, for 50 to 64, 40%, and for those 65 and older, support dropped dramatically to 22%.
There are differences between the sexes. Men are almost evenly divided on the question (45% yes, 47% no), while 57% of women oppose legalization.
An even higher percentage of Republicans (71%) oppose legalization, while Democrats are evenly divided, and liberal Democrats show majority support (57%) for legalization. Among independents, 49% support legalization. Among both Democrats and independents, support has increased dramatically in the past decade. Ten years ago, only 29% of Democrats and 35% of independents supported legalization.
The poll found that 40% of respondents had tried marijuana, and that people who had tried marijuana were much more likely (64%) to support legalization, than those who had not (25%).
Bottom line: We're not quite there yet nationally, but the trend line points to national majority support for general marijuana legalization within a decade.