Office of National Drug Control Policy (ONDCP -- the drug czar's office) head Gil Kerlikowske declined to directly answer a question about how the federal government would respond if California voters passed the Tax, Regulate and Control Cannabis Act, the marijuana legalization initiative sponsored by Oaksterdam entrepreneur Richard Lee. Kerlikowske's no comment came in a Thursday webcast on ABC News' Top Line program.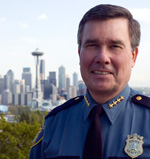 Kerlikowske said he wouldn't speculate on how the Obama administration would respond to a legalization victory in November. "Since it hasn't passed -- right now it would be improper to speculate on what the federal government's role is," he said.
The Obama administration has made it clear it would respect the rights of medical marijuana patients and providers in states where it is legal, but it is not at all clear that it would respond in the same way to legalization for personal use.
When prodded, Kerlikowske said the federal government could respond in a variety of ways, including filing lawsuits to litigate differences between state and federal drug laws. "You can envision a lot of different things," he said.
Let's hope that come November, the question is no longer hypothetical and the administration will be forced to grapple with the question of how to deal with Californians having voted to free the weed. Then things could get really interesting.