Efforts to deepen already existing reforms to the Higher Education Act (HEA) anti-drug provision hit a brick wall during last minute negotiations last month over the health care reform bill, which included the Student Aid and Financial Responsibility Act (SAFRA). The Democratic Senate leadership removed the HEA reform and various other items they feared would not survive Republican procedural challenges the night before the Senate voted on the budgetary reconciliation bill related to the package.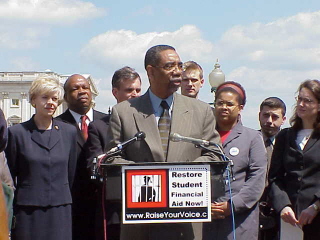 That doesn't mean HEA reform is dead this session, but advocates will have to push hard to get it passed. They say they plan to do just that.
The child of congressional drug warrior Rep. Marc Souder (R-IN), the HEA anti-drug provision, also known as the Aid Elimination Penalty, was enacted in 1999. In its first, hard-line version, it barred students with a drug conviction -- no matter how minor -- from receiving federal financial aid for specified periods. More than 200,000 students have been adversely affected by the HEA Aid Elimination Penalty since its inception.
The harsh and punitive measure sparked opposition from students and their supporters and was a key factor in the creation of Students for Sensible Drug Policy (SSDP). It also sparked the creation of the Coalition for HEA Reform (CHEAR), an umbrella group including dozens of higher education, civil rights, and drug reform organizations, which worked Capitol Hill throughout the '00s to lobby for reform. Advocates scored a partial success in 2006, when Congress voted to make the penalty applicable only to drug convictions that occurred while students were enrolled in school and receiving aid.
The reforms included in the SAFRA this year would have gone further toward completely eliminating the Aid Elimination Penalty. Under the measure approved by the House, only students convicted of a drug distribution would have been subject to losing financial aid eligibility. But the section of the bill in which that reform was included got removed as part of a maneuver to include the rest of the legislation -- health care and student combined -- in the reconciliation process, avoiding the need to amass 60 votes.
"The Democrats took out a bunch of stuff at the last minute they didn't think could survive various Senate procedural hurdles," said Bill Piper, national affairs director for the Drug Policy Alliance, a key player in CHEAR. "The HEA drug provision was one of many items eliminated -- for reasons that had nothing to do with the issue itself."
"The HEA reform was tucked into the budget reconciliation bill as part of SAFRA," noted Aaron Houston, government affairs director for the Marijuana Policy Project (MPP), another key player in CHEAR. "But under Senate rules, only items that could be shown to produce budget savings were allowed, and our provision costs money, so that was a problem. It would have been subject to a valid point of order on the Senate floor."
But while the HEA aid elimination penalty didn't make the final cut in the reconciliation process, Houston saw positive signs in what did -- and did not -- take place in Congress this year.
"The Republicans could have called for a roll call vote on this provision, they could have tried to call for a roll call vote at the committee level, but they didn't do that," he noted. "As time goes by, I am confident that we are facing an increasingly receptive environment, not because the Republicans have seen the light, but because they are beginning to understand that it is not in their political interest to grandstand on these drug issues. They know it would alienate the Tea Party types, many of whom are fairly libertarian-leaning, and a lot of whom got their start in politics via activism in the Ron Paul campaign. While Republicans used to grandstand on this issue, now they don't see it as politically expedient, and that suggests how much progress we've made," Houston argued.
David Borden, executive director of StoptheDrugWar.org and one of the principal CHEAR organizers since its founding, also saw positive signs. "The good news is that HEA reform almost passed last week," he said. "And this time we didn't even have to remind members of Congress about the issue; it's part of the agenda, they figured out how much they thought they could achieve politically, and they even deflected Rep. Souder's challenges in committee and on the House floor to do that much. And it was in there until the very last day."
Can that progress be transformed into an actual victory on HEA reform this year? There is still a chance, advocates said.
"The next step is to try to get this in by the end of the Congress," said Houston. "We're still hopeful, but I would be hesitant to say what the vehicle for it would be."
"Obama is talking about how he wants to do another education bill this year before the election," said Piper. "It's mainly about reforming No Child Left Behind, but will also contain some of his other priorities, like the reward program for the states, and they seem pretty serious about pushing that. We're hopeful that we can get HEA reform included in that, and we are contacting members of Congress about that. But at this point, it's far from clear the Democrats can get 60 votes to pass an education bill, with or without HEA reform."
HEA reform came frustratingly close to fruition in last month's health care brouhaha. And a side effect of that battle was to cost HEA reform what would otherwise have been a likely vehicle for passage. Now, all activists can do is grit their teeth and return to the fight. Such are the ways of Washington.