The infamous Higher Education Act (HEA) anti-drug provision, or "Aid Elimination Penalty," which bars students committing drug offenses from receiving financial aid for specified periods of time, took a step toward further dilution this week when the US House of Representatives Thursday approved H.R. 3221, the Student Aid and Fiscal Responsibility Act (SAFRA). In the passed bill is language that restricts the penalty to those convicted of drug sales, not mere drug possession.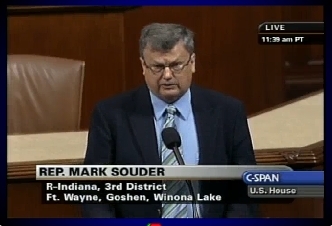 The bill will next go to a conference committee, whose job will be to produce a reconciled version of H.R. 3221 and a yet-to-be-passed Senate bill. The final version must then be reapproved by both the House and the Senate. If that final version contains the same or very similar language, it will mark the second significant reduction of the penalty, the decade-old handiwork of arch-drug warrior Rep. Mark Souder (R-IN). In 2006, the provision was scaled back to include only drug convictions that occurred while students were enrolled in college and receiving financial aid (a change supported by Souder himself).
The House victory came only after Souder attempted and finally gave up a last ditch effort to undo the reform. The Indiana conservative first submitted an amendment to strip out the new language in the Education & Labor committee where the bill originated earlier this year, a vote which he lost. This week, he submitted the amendment as the bill came up for a vote on the House floor, but then withdrew it after Rep. Ed Perlmutter (D-CO) suggested compromise language that would limit the provision's effect to felony drug convictions instead of drug sales convictions.
That compromise language came too late to be included in the House floor vote Thursday. It would presumably be offered up during conference committee.
But that wasn't the only reason Souder withdrew his amendment. As he conceded in a House speech Thursday, "I was probably going to lose today."
More than 200,000 students have already lost financial aid under the Souder aid elimination penalty because of drug convictions. Passage of SAFRA, with either the sales conviction language or the felony conviction language, would reduce the pool of students who would potentially be victimized by it. It's not full repeal, but it's another step closer.