San Diego County District Attorney Bonnie Dumanis claims to be a friend of medical marijuana, but one would be hard-pressed to find anyone in the local medical marijuana community who would agree with her. This "friend" coordinated mass raids against medical marijuana dispensaries there in 2006, again in February of this year, and yet again just last week.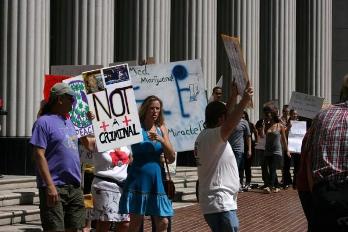 It is part and parcel of a pattern of bitter, recalcitrant refusal on the part of San Diego county officials to abide by the will of the voters and accept the state's medical marijuana law. The conservative county Board of Commissioners is notorious for its opposition to medical marijuana, going so far as pursuing a quixotic and costly legal challenge to state laws, which it lost in every court that heard it.
On Tuesday, the Board unanimously extended for 10 months a moratorium on new dispensaries in unincorporated areas of the county. After its court challenge to the state law was defeated, the Board is now grudgingly allowing staff to develop regulations for dispensaries, but in the meantime, DA Dumanis is picking them off in batches.
The city of San Diego has been a bit more friendly. Last week, just one day before Dumanis' raiders struck, the City Council voted to implement a task force to create recommendations for regulating collectives and co-ops in accordance with guidelines issued earlier this year by the state attorney general. But if the City Council is working with the medical marijuana community, the San Diego Police Department is not. Instead, it has joined forces with Dumanis and her conservative cronies to attack the dispensaries.
Last week's raids shuttered 14 dispensaries in San Diego, the North County, and South Bay, and resulted in 33 arrests -- 31 under state charges and two under federal charges -- including wheelchair-bound patients hauled away by armed and uniformed law enforcement agents. Dumanis assembled squads of San Diego Police, San Diego County Sheriff's officers, DEA agents, and IRS agents to swoop down on the dispensaries, make arrests, seize cash and medicine, and disrupt the local medical marijuana distribution system.
While the DEA was present, last week's raids were Dumanis's baby. Only two of those arrested face federal charges.
"It was a joint investigation with the sheriff's department and the police department," said San Diego DEA spokeswoman Amy Roderick. "We were asked for our assistance. We were not at every location."
Roderick declined to spell out how DEA San Diego is interpreting the current Justice Department position on not pursuing medical marijuana providers in states where it is legal unless they are in violation of state law. "I can't comment on policy," she said. "It's not made by the DEA."
"Like most San Diegans, I support the use of legitimate and legal medical marijuana use," Dumanis said at a press conference touting the busts. "However, it appears these so-called 'marijuana dispensaries' are nothing more than for-profit storefront drug dealing operations run by drug dealers hiding behind the state's medical marijuana law."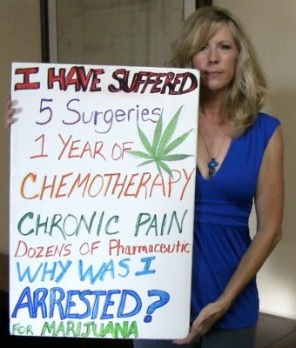 "We're not surprised at all, but very disappointed," said Margaret Dooley-Sammuli, deputy state director for the
Drug Policy Alliance
. "What Dumanis is doing is simply unacceptable. If she has legitimate concerns about how dispensaries are operating, whether they're operating as collectives, she could use civil actions, she could use letters and accountants. There is no call for bringing in the DEA, arresting people in wheelchairs, scaring the hell out of patients, and shutting off medical marijuana access for very sick people. It's her tactics that we're really concerned with," she said.
"But also her misrepresentations to the public of what she's doing and her unproductive strategy of pointing out what she says is illegal, but not saying what is legal," Dooley-Sammuli continued. "Collective operators are doing their best to comply with the law, but she doesn't have answers for them. People have gone out of their way to follow the guidelines, but got raided anyway."
I don't think Bonnie Dumanis has ever seen a legal dispensary in 13 years," said Dion Markgraff, San Diego coordinator for Americans for Safe Access "She can't follow the plain language of the law, but instead she holds some impossible standard that no one else knows about," he said.
"We're on the front lines of the most terrorist county in the whole state," Markgraff continued. "The DA is sending in cops who lied to doctors to get valid recommendations, and then busting dispensaries that are operating according to the law. At worst, maybe somebody didn't file this or that piece of paper or had a zoning issue, but there was certainly nothing criminal."
Markgraff himself has had a taste of the DA's bitter medicine. "I was raided two months ago for 32 immature plants," he related. "My girlfriend and I both have medical marijuana recommendations, and I had a state caregiver card. The cops laughed at my card, then stole it. They took everything, they arrested me and my girlfriend, they took my kid, they gave us both $130,000 bail. Now we're fighting this Kafkaesque, Orwellian system where the prosecutors and the judges don't give a shit about legality."
There was nothing unique about police seizing his daughter, Markgraff said. "They do it all the time. The first thing they say is 'we're going to take your kids if you don't plead.' When they're using your kids as leverage, that's really ugly," he said.
"We have not, and will not prosecute people who are legitimately and legally using medical marijuana," Dumanis said at the press conference. "It's a shame that a few illegal drug dealers are trampling on the compassion shown by voters in passing California's medical marijuana law."
Medical marijuana patient and now criminal defendant Donna Lambert begs to differ. She joined a 10-person medical marijuana collective after the 2006 raids that disrupted supplies. "I provided medical marijuana to a valid qualified patient who was an undercover cop who lied to a doctor to get a doctor's recommendation," said Lambert, who was one of 14 people arrested in the Operation Green RX raids conducted in February. "There was no dispute about my patient status or his patient status."
In Operation Green RX, as many as ten detectives spent six months becoming qualified medical marijuana patients on fraudulent grounds and then joining medical marijuana collectives. Undercover San Diego Police Detective Scott Henderson lied to a doctor to obtain a valid medical marijuana recommendation and then reached out to Ms. Lambert for help. When, believing she was lawfully helping another patient, she supplied him with medical marijuana, Lambert became yet another of Dumanis' victims.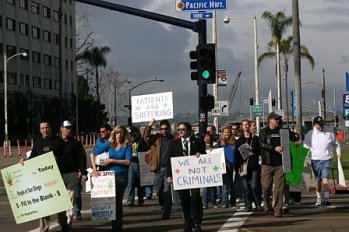 Lambert, a 47-year-old San Diego resident, began relying on marijuana to cope with chemotherapy. She struggles with a number of serious illnesses, including hepatitis C, cirrhosis, cancer and Sjoegrens Disease. She was bound over for December trial during a preliminary hearing last week, despite the judge in that hearing noting that she was clearly not in it for profit. "My attorney says they've never dismissed a medical marijuana sales case in San Diego," she said.
"They are a little more conservative down there than the other coastal cities," said San Francisco-based Marijuana Policy Project spokesman Bruce Mirken when asked what was the matter with San Diego. "It seems like the county is more a problem than the city, and some of their officials, including the DA, are particularly bad."
California's confused medical marijuana law is part of the problem, said Mirken. "It doesn't specify with absolute clarity what is legal and what isn't when it comes to medical marijuana distribution. Everyone is operating on the attorney general's guidelines, which haven't been tested in court, and that leaves room for interpretation, so you have fertile ground for officials who choose to be jerks to wreak a great deal of havoc. That's what's happening in San Diego County."
"People got up in arms at the DEA, but in this case, they were playing a supporting role," said Mirken. "The real problem is local officials who think medical marijuana is okay as long as you don't actually get it from anyone. The law says patients can have marijuana, so it makes sense to have an aboveground, organized distribution system. We have working models for that in places like San Francisco and Oakland. It's not that hard to do if you have the political will to do it," Mirken said.
"It's just been an ongoing battle for lo these many years," said Dale Gieringer, head of California NORML in San Francisco. "The city of San Diego isn't so bad, but the county is more conservative. The county board of commissioners is the one that filed the lawsuit trying to overturn the state medical marijuana law. And the DA is just bad. We initially approved of her election; she is gay, and was viewed as progressive, but she's been really tough on medical cannabis. Still, I see a glimmer of hope here. In half of her statements, Dumanis seems to be saying that there might be some legal dispensaries around, but nobody's clear on who they are."
San Diego medical marijuana patients and activists aren't seeing glimmers of hope; they're seeing red. "We need to replace the DA, most of the county board, and the county sheriff," said Lambert. "They are all working together to subvert the state law. It doesn't matter to them if people are following the law or not, she just lies through her teeth about it. I am the perfect example of her lies."
"Dumanis has made a political calculation that this will appeal to her conservative base," said Markgraff. "There is no one currently running against her, but we are trying to get someone to do that. There are plenty of people upset with her, and now just in the medical marijuana community. She's ripe for being thrown out," he said.
"We are mobilizing in San Diego," said Dooley-Sammuli. "Patients and medical marijuana supporters are working to put pressure on her to stop these tactics, and we're working with the newly created city task force to craft regulations, but this is really all about Bonnie Dumanis and the upcoming election. She is hoping this will work for her politically, and we're working to see that it doesn't."
San Diego activists told the Chronicle of many more horror stories about medical marijuana persecution under DA Dumanis. While they are working to get rid of Dumanis and bring a measure of real justice to the DA's office, the Chronicle will be digging a little deeper into the alleged abuses.