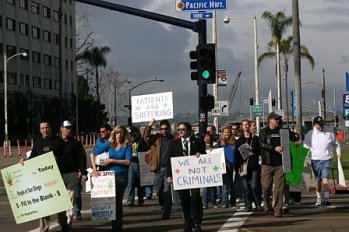 One day after the San Diego City Council voted 6-1 to create a medical marijuana task force to help draft local laws governing dispensaries, local law enforcement agencies backed by the DEA Wednesday raided more than a dozen dispensaries in the city and its surroundings. For a complete list of the dispensaries raided, go
here
.
The raids were the result of an investigation led by San Diego District Attorney Bonnie Dumanis, a long-time ardent foe of medical marijuana. At a Thursday news conference, Dumanis announced that 31 people had been arrested, $70,000 in cash seized, and 14 dispensaries shuttered.
Taking a page from the DEA's playbook, Dumanis attempted to portray the dispensaries as drug dealing operations, not medical providers. The raids have "nothing to do with legitimate medical marijuana patients or their caregivers," she said. Instead they were aimed at "so-called medical marijuana businesses that appear to be run by drug dealers."
Under California medical marijuana law, dispensaries are legal if they are organized as collectives and operate as nonprofit entities. San Diego has licensed nine dispensaries, but had an estimated 60 dispensaries -- at least until Wednesday's raids.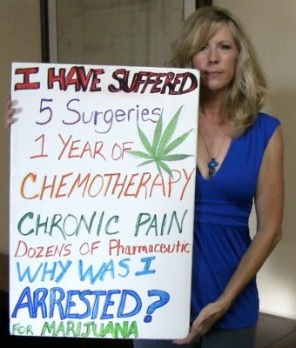 It's not the first time Dumanis has gone after dispensaries. A series of raids in 2007 shut down a dozen dispensaries and led to prosecutions that are still underway.
Medical marijuana supporters were livid at both Dumanis and the Obama administration. "Not only does the federal government have no place helping to enforce state and local medical marijuana laws," said Americans for Safe Access California director Donald Duncan. "Local officials must regulate medical marijuana and enforce those laws with civil actions, not with the barrel of a gun. It is incumbent on District Attorney Dumanis to help pass local regulations in San Diego not to aggressively undermine safe access to medical marijuana," he said.
"We're extremely disappointed that the feds participated in this attack on patients. The priority of the White House should be protecting patients, not helping local officials enforce oppressive restrictions," said Margaret Dooley-Sammuli, deputy state director for the Drug Policy Alliance. "Any concerns that the District Attorney may have will not be resolved through SWAT-style tactics like pulling people from their wheelchairs, as we saw yesterday. The federal government has no business enforcing state and local medical marijuana laws. It's our local governments' job to regulate medical marijuana and enforce those rules -- not with armed raids, but with civil actions," said Dooley-Sammuli. "The Obama administration has allowed Ms. Dumanis to use federal resources to further obstruct implementation of Prop 215 as she prepares to run for reelection in 2010. The people of San Diego deserve better."
Look for a feature article on San Diego's continuing recalcitrance regarding medical marijuana next week.