On the last day of August, media outlets around the country ran an Associated Press story reporting that nearly one-third of the cocaine in the country is tainted with a veterinary medicine, a de-worming agent called levamisole. According to the AP, the tainted cocaine is responsible for at least three deaths in the US and Canada, as well as sickening more than a hundred other people.
According to health authorities, the cocaine tainted with levamisole is linked to an unusual incidence of agranulocytosis, a condition of a suppressed immune system, whose symptoms include persistent sore throat, persistent or recurrent fever, swollen glands, painful sores, skin infections with painful swelling, thrush, and other unusual infections.
The DEA suspects that levamisole is being added as a cutting agent by Colombian drug traffickers. Researchers speculate that it may boost the cocaine high by acting as a dopamine reuptake inhibitor, but there is of yet little research to support that.
While the cumulative death toll and illness count was news, the fact that cocaine is being laced with levamisole shouldn't have been. Delaware public health officials issued a health advisory on levamisole-tainted cocaine in 2005, and British researchers reported in 2006 on 14 deaths in a one-year period from the tainted cocaine.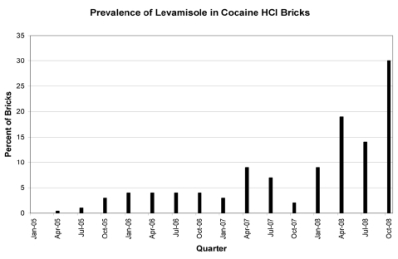 Last fall, the DEA quietly reported in its obscure
Microgram Journal
that levamisole-contaminated cocaine had been encountered beginning in April 2005 and that the percentage of contaminated cocaine had generally increased since then to reach 30% of all samples by October 2008 (page 83). But it didn't publicize those findings.
Soon after, local public health alerts about levasimole-tainted cocaine deaths or illnesses began trickling in, including Alberta, Canada, in November 2008, Los Angeles County in December 2008, New Mexico in January, Erie County, Pennsylvania, in March, and King County, Washington, in June.
Also early this year, researchers reported on cases of agranulocytosis after consumption of levamisole-laced cocaine in January in the Annals of Internal Medicine, and Criminal Justice Policy Foundation head Eric Sterling blogged about it in March.
Given the large number of cocaine users in the US, tainted product poses a significant public health risk. According to the most recent National Survey on Drug Use and Health released yesterday, there are 1.9 million "current cocaine users."
"If it really 30% of the cocaine, that would be a huge public health problem," said Dr. Sharon Stancliff, medical director for the Harm Reduction Network. "Medical people need to be aware of this."
They aren't, said Dr. Eric Lavonas, assistant director of the Rocky Mountain Poison and Drug Center in Denver, where nearly half of the cocaine is thought to be cut with levasimole. "I would think it would be fair to say the vast majority of doctors in the United States have no idea this is going on," he said. "You can't diagnose a disease you've never heard of."
But despite the mounting pile of reports and alerts and the potential public health risks, federal officials have remained silent. That may be about to change.
"The Center for Substance Abuse Treatment (CSAT) is going to put out a 'dear colleague' alert," said Stancliff. "It should happen relatively soon."
The Centers for Disease Control is also expected to issue an alert, sources told the Chronicle, though a media specialist at CDC denied that. "We don't do drugs," she said -- unaware of the CDC's involvement in a national alert about fentanyl-tainted heroin in 2006 and 2007 and pointing the Chronicle toward CSAT. CSAT had not responded to Chronicle inquiries by press time.
The 2006-2007 wave of fentanyl-tainted heroin overdoses -- hundreds of people died from them -- provides a model for how CSAT and the CDC might respond to the ongoing levasimole-tainted cocaine problem. As the Chronicle reported at the time, people began overdosing on the tainted heroin in the fall of 2006.
While the initial response by federal agencies was slow, by the summer of 2007, CSAT had issued a nationwide alert to outreach workers, treatment providers, and hospitals warning of the deadly problem. The CDC also got involved, although to a lesser degree. That summer, a team of CDC epidemiologists went to Detroit in response to a request from the Michigan Department of Community Health. The team assisted state and local officials with autopsy reports and analysis to help understand the overdose wave and formulate prevention guidelines for clinicians and educators.
The current wave of deaths and illnesses related to levasimole-tainted cocaine is not as severe as the fentanyl overdoses -- so far at least -- but as indicated above CSAT is set to act soon. Whether the CDC will actually get involved this time around remains to be seen.
While waiting for the feds to act, harm reductionists and public health workers are struggling with how to best act on the tainted cocaine. "Medical people need to be aware of this," said Stancliff, "but can we make warnings about smoking versus shooting versus snorting? I have no idea. There may be differences in terms of biomedical availability, but we don't know that yet," she said.
Nor was Stancliff certain about whether it was time to alert needle exchange clients about the problem. "When New York state sent out an advisory, we made sure the Injection Drug Users Health Alliance was aware of it, but I'm never sure when we should be alerting the people going to the needle exchanges. We want to save our alerts for times when people are thinking about changing their behavior."
For Doctor of Public Health David Duncan, a Kentucky-based expert on substance abuse and epidemiology, contaminated drugs are an expected consequence of prohibitionist regimes. "This is one of the things you inevitably have with black market drugs," he said. "You don't know what you're dealing with and the makers don't necessarily know what they're making. It seems to be an iron law of prohibition--outlaw something and whatever it is, it gets stronger and more dangerous."
"The appropriate public health response is to tell people there is a contaminant, and we're not sure how dangerous it is," said Duncan. "But all black market cocaine contains contaminants. As long as it is illegal, there is risk of contamination. The only way to make it safe is to make it legal."
Stancliff added that testing for levasimole in cocaine is relatively simple. That leads to the obvious question of whether a drug testing program like those that evolved around Ecstasy and the rave scene may be appropriate. At least one specialist thinks so.
"I thought to myself, why isn't there a test kit? It is easy to test for," said Dr. Michael Clark, assistant professor in the Department of Psychiatry and Behavioral Science at the University of Washington's Harborview Medical Center. "It would be like testing your hot tub for its chemistry. Take a sample, mix some chemicals together, add a reagant, and see what turns what color."
Clark is working on developing just such a test kit. "It could be used at street level, and it could be used by a lot of public health and harm reduction groups. You want to identify levasimole before people ingest, very much like the Ecstasy testing. You could do the same thing with cocaine and levasimole," he said.
But that's addressing the problem on the back end. The solution is an untainted cocaine supply. "Someone needs to talk to those folks in Colombia," Stancliff said. And, as Duncan suggested, someone needs to talk to those folks in Washington--the ones who continue to assist on a prohibitionist regime despite all its negative collateral consequences, of which a tainted drug supply is only one.