Sen. Richard Durbin (D-IL) Thursday introduced the Fair Sentencing Act of 2009, which would eliminate the 100:1 sentencing disparity in federal crack and powder cocaine cases. Under current laws, in place since the crack hysteria of the mid-1980s, it takes 500 grams of powder cocaine to earn a mandatory minimum five-year prison sentence, but only five grams of crack to earn the same sentence.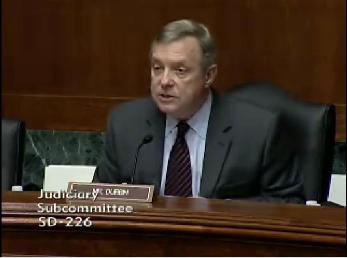 The Fair Sentencing Act would eliminate that disparity. Companion legislation has already passed the House Judiciary Committee. Ending the disparity is also supported by President Obama.
Pressure to remedy the injustice of the sentencing disparity has been building for years. The US Sentencing Commission has reduced sentences for crack offenses and has argued for years that the disparity needs to be eliminated. It has been joined by a growing coalition of faith-based, drug reform, criminal justice, and other interest groups. Now, finally, something is moving in Congress.
"Drug use is a serious problem in America and we need tough legislation to combat it," Durbin said in a statement Thursday taking a very mainstream line. "But in addition to being tough, our drug laws must be smart and fair. Our current cocaine laws are not," the statement continued. "The sentencing disparity between crack and powder cocaine has contributed to the imprisonment of African Americans at six times the rate of whites and to the United States' position as the world's leader in incarcerations. Congress has talked about addressing this injustice for long enough; it's time for us to act."
"Sen. Durbin's bill will not only restore judicial discretion, which has been undermined by the statutory mandatory minimum sentences that Congress enacted 23 years ago, but will directly address racial disparities in our criminal justice system and ensure that there is, in fact, 'justice for all'," said Jasmine L. Tyler, deputy director of national affairs for the Drug Policy Alliance. "The House and Senate should move quickly on this issue, 23 years is too long to wait for justice to be served."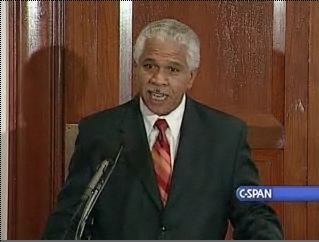 The act is cosponsored by Senate Judiciary Committee Chair Patrick Leahy (D-VT) and six other Judiciary Committee members: Sens. Arlen Specter (D-PA), Russell Feingold (D-VT), Ben Cardin (D-MD), Sheldon Whitehouse (D-RI), Edward Kaufman (D-DE), and Al Franken (D-NM). Also cosponsoring the bill are Sens. John Kerry (D-MA) and Chris Dodd (D-CT). Some Republican senators have expressed support for reforming the sentencing disparity, but none have yet signed on as cosponsors.
"Today, the criminal justice system has unfair and biased cocaine penalties that undermine the Constitution's promise of equal treatment for all Americans," Leahy said. "To have faith in our system Americans must have confidence that the laws of this country, including our drug laws, are fair and administered fairly. I believe the Fair Sentencing Act will move us one step closer to reaching that goal. I commend Senator Durbin for his leadership in fixing this decades-old injustice. We should do what we can to restore public confidence in our criminal justice system. Correcting biases in our criminal sentencing laws is a step in that direction."
Click here for C-Span footage of a Tuesday Congressional briefing held by the Crack the Disparity coalition.