Under an anti-methamphetamine package announced last week by the government of New Zealand, popular cold and flu remedies containing pseudoephedrine will soon be available only by prescription after a visit to the doctor's office. The popular sinus treatment is also considered a precursor chemical for manufacturing meth.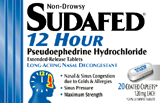 "We're asking New Zealanders to band together and to accept using alternatives to treat their colds and flus to ensure New Zealand no longer becomes one of the countries most heavily affected by P [as the Kiwis refer to meth]," said Prime Minister John Key as he announced the a series of moves to combat meth use and production.
In addition to restricting access to precursor chemicals, the government will spend more money on drug treatment programs, create a 40-man police anti-meth task force, and charge police with drafting a new anti-meth law enforcement strategy by next month. The government said it would pay for the programs with asset forfeiture funds.
The pseudoephedrine announcement in particular brought a mixed reaction from the public. Some, especially those who had friends or family members who had had problems with meth, were supportive. But others were "annoyed," asking why law-abiding people had to suffer for the actions of drug users and some "voiced concern that it was a bit over the top."
Unsurprisingly, New Zealand police were happy with the new meth package. In a statement greeting the package's announcement, Assistant Commissioner Viv Rickard praised the "whole of government approach" as "more effective" in the battle against meth, but, as always, the police wanted more.
"Police support the control of pseudoephedrine as it would allow us to concentrate resources and work with Customs on preventing the importation of precursors from overseas," Rickard said. "Precursor control is a vital part of disrupting the supply of methamphetamine, but no one action on its own will solve the methamphetamine problem. Stronger legislation around gangs, the ability to seize assets and profits of organized criminals and enhanced treatment programs will all contribute reducing the supply of methamphetamine and making our communities safer."