Wisconsin legislators will get another crack at passing a medical marijuana bill. State Rep. Mark Pocan (D-Madison) and Sen. Jon Erpenbach (D-Waunakee) announced October 8 they were sponsoring LRB 2517, the Jacki Rickert Medical Marijuana Act, named after the long-time Mondovi patient and activist. They are currently looking for cosponsors.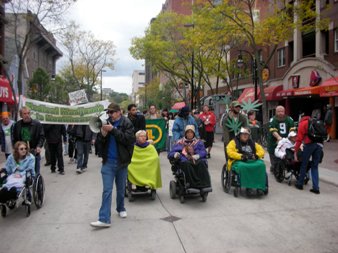 Rickert famously led a 210-mile march in her wheelchair to the state house in 1997 seeking to bring attention to her cause. Since then, she and the group
Is My Medicine Legal Yet
(IMMLY) have worked tirelessly to get a medical marijuana bill passed in the Cheesehead State. A 2007 bill died in committee. This year, IMMLY communications director Gary Storck and terminally ill disabled veteran Mary Powers have been leading weekly delegations of patients to the capitol to meet with and educate lawmakers.
Under the proposed legislation, terminally or seriously ill patients could obtain a doctor's recommendation to use marijuana. Possession of either the recommendation or a state ID issued by the Department of Human Services would protect patients and caregivers from arrest and prosecution. Patients and caregivers could grow up to 12 plants and possess up to three ounces of marijuana. The bill also provides for a dispensary system similar to the state-regulated one recently set up in Rhode Island.
"It's a situation that makes a lot of sense and it's also a situation dealing with compassion -- how can you not have compassion for someone who says, 'look the nausea is really upsetting, the chemo treatments are really tough and this is the only way I can find a little bit of relief from the pain,'" said Erpenbach at a press conference announcing the bill.
The legislators' action came a week after IMMLY led a demonstration of hundreds of patients and supporters at the state capitol in Madison. Now, with the bill circulating and about to be filed, it will be time to return to the mundane art of state house lobbying.
Visit http://www.youtube.com/1Rx100372 for IMMLY video selections.