Last November, voters in Massachusetts approved an initiative decriminalizing the possession of up to an ounce of marijuana. Now, one activist is pushing the envelope with a legalization bill. It is set for a hearing next Wednesday at the statehouse.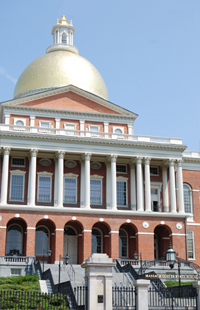 The brainchild of Northampton attorney and former DRCNet and NORML board member Dick Evans,
H. 2929
and its companion bill, SB 1801, would regulate the commercial cultivation of marijuana and impose an excise tax. Under the bill, marijuana would be sold by licensed vendors in one-ounce boxes bearing the identity of the grower, the grade, and a tax stamp proving that taxes have been paid. Anyone 21 or older could buy or possess marijuana. Commercial cultivators, processors, distributors, and retailers would all be licensed. The bill permits licensed direct sales from farmers to consumers, and it allows for unlicensed, unregulated non-commercial cultivation.
With no sponsors in the legislature, the bill is unlikely to go anywhere this year. But even getting a hearing on the issue is a step forward.
As Evans told the crowd at a rally earlier this year: "Sooner or later, our country will come to its senses about marijuana, and later is now sooner. With Question 2, Massachusetts voters went to the polls and said enough, enough, enough arrests, we have to decriminalize. Now, we can talk about things we couldn't talk about before, we can talk about the futility of arresting people for marijuana, we can now have a serious discussion about prohibition. The debate has begun, and the burden of proof has shifted; the defenders of prohibition are on the defense. People are starting to look at the tax revenue from tax and regulated marijuana."
And now Evans has provided an opportunity for the legislature to start looking at it, too. He would like to see a lot of people show up for the hearing, he said. "We need to fill up the statehouse with people, so bring yourselves down there, and bring your parents with you," he implored.
The hearing is Wednesday, October 14, at 10:00am in Room B2 at the State House. Click here for directions.