Medical marijuana has gone mainstream. It routinely receives above 70% in public opinion polls, it has been legalized in 13 states, and this year 18 more states either tried or are still trying to pass medical marijuana laws. It was also the subject of legislative activity in four states that already have medical marijuana laws.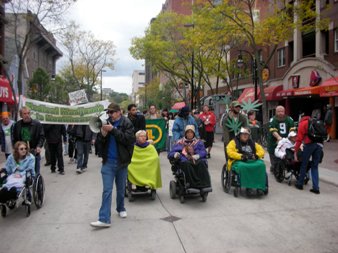 But just because it's mainstream doesn't mean it's easy. The legislative process is notoriously slow, arduous, and fickle. At the beginning of the year, movement leaders thought we would see perhaps four or five states pass medical marijuana laws this year. That hasn't happened. This year, no state that didn't have a medical marijuana law has managed to get one passed, and in a pair of medical marijuana states that did pass additional legislation, recalcitrant governors proved to be obstacles.
Nevertheless, progress has been made, with prospects for more, whether this year or later. As 2009 enters its final weeks, here's where we stand:
PASSED BUT VETOED:
Minnesota: In May, the Minnesota legislature approved a restrictive medical marijuana bill, SF 97. The House version of the bill won on a 70-64 vote. The Senate, which had approved its version of the bill a month earlier, accepted the House version, passing it on a 38-28 vote. The vote was largely along party lines, with most Republicans opposing and most Democratic Farm Labor (DFL) members supporting the bill. In neither chamber was the margin of victory large enough to overcome a veto. Gov. Tim Pawlenty (R) quickly vetoed the bill. Blocked by a recalcitrant governor, Minnesota medical marijuana proponents are considering an end run around him next year. Under Minnesota law, the legislature can bypass the governor by voting for a constitutional amendment to allow medical marijuana use. If such a measure passes the legislature, it would then go directly to a popular vote. With support for medical marijuana at high levels in Minnesota, proponents believe the measure would pass.
New Hampshire: The legislature passed HB 648, which would have created three nonprofit medical marijuana dispensaries for patients, but Gov. John Lynch (D) vetoed it. In October, the House voted to override the veto on a vote of 240-115, but the Senate fell two votes short on a 14-10 vote.
DEAD OR DORMANT:
Alabama: The Alabama medical marijuana bill, HB 434, sponsored by Rep. Patricia Todd (D-Birmingham) was referred to the House Judiciary Committee and died there without a vote when the session adjourned in May.
Connecticut: Two medical marijuana bills were introduced this year, HB 6156, introduced by Rep. Penny Bacchiochi (R-Sommers), and HB 5175, introduced by Rep. Mary Mushinsky (D-Wallingford). Neither bill received a public hearing. No medical marijuana legislation is likely to move in Connecticut until Gov. Jodi Rell (R) is gone. In 2007, medical marijuana bills passed both the House and the Senate, only to be vetoed by Rell.
Iowa: Sen. Joe Bolkcom (D-Iowa City) introduced a medical marijuana bill, SF 293, in March. That same month it got a hearing before the Senate Human Resources Subcommittee, but has had no action since.
Maryland: Maryland enacted an affirmative defense law for medical marijuana patients in 2003, but that doesn't protect them from arrest. HB 1339, sponsored by Delegate Henry Heller (D-Montgomery County), introduced this year, would have created a task force to make recommendations about changing the state's medical marijuana law. The bill received a hearing in the House Judiciary Committee, but died when committee Chairman Joseph Vallario (D-Calvert County) refused to schedule a vote on it.
Massachusetts: A medical marijuana bill, HB 2160, was filed in January and referred to the Joint Committee on Public Health, which held a hearing in May. Since then, no action.
Missouri: For the third year in a row, a medical marijuana bill was filed, but went nowhere. HB 277, introduced by Rep. Kate Meiners, was stalled by the House leadership and assigned to the Health Care Policy Committee too late to be scheduled for a hearing this year.
North Carolina: The North Carolina medical marijuana bill, HB 1380 was introduced in April by Rep. Earl Jones (D-Guilford). It got a public hearing before the House Health Committee in June, but has not moved since.
South Dakota: A South Dakota medical marijuana bill, HB 1127, sponsored by Rep. Gerald Lange (D-Madison), managed to survive three restrictive amendments in the House Health and Human Services Committee before the committee voted to kill it on a 9-4 vote in February. The legislature will have one more chance to pass a medical marijuana bill early next year. If it doesn't, medical marijuana backers will place an initiative on the November 2010 ballot.
HB 1128, also sponsored by Lang, would have provided a medical necessity defense for medical marijuana patients. In February, the House Judiciary Committee unanimously killed it by referring it "to the 41st day." The session only has 40 days.
Tennessee: The Tennessee Medical Marijuana Act of 2009, SB 209, sponsored by Sen. Beverly Marrero (D-Memphis), and its companion measure, HB 368, sponsored by Rep. Jeanne Richardson (D-Memphis) were assigned to their respective Health and Human Services Committees, where they were ignored and died a quiet death.
Texas: A Texas medical marijuana bill, HB 164, introduced by Rep. Elliot Naishtat (D-Austin) was introduced in November 2008 and referred to the House Public Health Committee in February. No action has occurred since then.
STILL ALIVE:
Delaware: A medical marijuana bill, SB 94, sponsored by Sen. Margaret Rose Henley (D-Wilmington) passed the Senate Health and Social Services on a 4-0 vote in June. It awaits a Senate floor vote when the legislature reconvenes for the second year of its two-year session in January.
Illinois: The Compassionate Use of Cannabis Pilot Program Act, SB 1381, passed the state Senate by a 30-28 vote in May. It passed the House Human Services Committee on a 4-3 vote the next day, but has had no further action in the House. The bill may move when the House returns for the second half of its session in January. Gov. Pat Quinn (D) will give "serious consideration" to a medical marijuana bill that reaches his desk.
New Jersey: The New Jersey Compassionate Use Medical Marijuana Act, which had already passed the Senate, was approved by the Assembly Health Committee on a 7-1 vote, but only after making it dramatically different from and more restrictive than the Senate version. At the behest of committee chair Herb Conaway (D-Burlington), who was responding to criticism that the bill's distribution and oversight provisions weren't tight enough, the bill was amended so that only "alternative treatment centers" could grow, process, and distribute medical marijuana. In the version passed by the Senate, patients could also grow their own or have caretakers grow it for them. In this latest version, there is no role for caretakers, because it also provides that only patients may pick up medical marijuana at a dispensary, or have a courier deliver it to them.The bill now heads for a floor vote in the Assembly. It also must go back to the Senate, which must approve the amended version.
New York: In New York, a medical marijuana bill, S4041, passed the Senate Health Committee in May, marking the first time a medical marijuana had ever passed the previously GOP-controlled state Senate. It must now pass the Senate Codes Committee before proceeding to a Senate floor vote. The identical House version of the bill, A7542, has been passed from the House Health Committee to the House Codes Committee. The bills are sponsored by Assembly Health Committee Chair Richard Gottfried (D-Manhattan) and Senate Health Committee Chair Tom Duane (D-Manhattan) and would create state-registered dispensaries for patients. Patients could not grow their own. The legislature is expected to return for a special session later this year, and proponents are pushing for a vote.
Pennsylvania: For the first time in memory, Pennsylvania legislators have a medical marijuana bill, HB 1393 before them. Introduced in April by Rep. Mark Cohen (D-Philadelphia), the bill has been in the Assembly Health and Human Services Committee ever since. Just last week, however, the committee chair, Rep. Frank Oliver (D-Philadelphia), scheduled a December 2 hearing on the bill.
Wisconsin: The Wisconsin medical marijuana bill, SB 368 was introduced late last month. Gov. Jim Doyle supports it. The bill is set for a December 15 hearing and could move quickly after that.
VOTES IN MEDICAL MARIJUANA STATES:
Hawaii: In July, the Hawaii legislature overrode Gov. Linda Lingle's (R) veto of SB 1058, which establishes a task force to examine problems and critical issues surrounding the state's medical marijuana law. The vote was 25-0 in the Senate and 38-9 in the House. Gov. Lingle has since refused to fund the task force, forcing interested legislators to create the informal Medical Cannabis Working Group to hear testimony.
Maine: In April, when faced with a citizen petition to amend the state's medical marijuana law, the Maine legislature punted, taking no action and leaving it to the voters in this month's election. The voters approved the measure allowing for the creation of dispensaries.
Montana: Montana already has a medical marijuana law, but several bills seeking to change it -- for better or worse -- saw action this year. SB 326, sponsored by Sen. Ron Erickson would have increased allowable amounts, added several illnesses to the list of qualifying conditions, and added child custody protections for patients. It passed the Senate 28-22, but failed on a tie vote to get out of the House Human Services Committee. Sponsors then tried a House floor vote to get the bill out of committee, but they needed 60 votes and only got 47. Similarly, HB 73, which would have allowed nurse practitioners and physician assistants to recommend marijuana to patients, died in the House Human Services Committee on a tie vote.
Two bad bills also died. HB 473, sponsored by Rep. Tom Berry (R-Roundup) would have barred anyone with a drug felony from ever becoming a registered patient. It died on a tie vote in the House Judiciary Committee. And SB 212, introduced by Sen. Verdell Jackson (R-Kalispell), attempted to force patients with more than a specific amount of THC in their system to prove their innocence if accused of driving under the influence. It was killed by a unanimous vote of the Senate Judiciary Committee.
Rhode Island: In the only medical marijuana victory at the statehouse so far this year, the Rhode Island legislature in June overrode Gov. Donald Carcieri's veto of a bill to create a system of state-licensed medical marijuana dispensaries. The override vote was a unanimous 68-0 in the House and a punishing 35-3 in the Senate. Rhode Island thus became the first state to expand an existing medical marijuana program to allow for state-licensed dispensaries.
Statehouse legislation is only one measure of progress in the drive to fully legalize medical marijuana use. Initiative victories, such as Maine's mentioned above, is another, as is the expansion of the dispensary supply infrastructure to states like Colorado or Montana is another. Increased mainstream support, such as last week's bombshell from the American Medical Association certainly bodes well for the future, as does the Obama administration's formalized policy of not targeting medical marijuana providers that are obeying their states' laws. But statehouses make state law -- for better or for worse -- and they are a place where reforms need to be taken, as well as an opportunity for them. By that measure 2009 has been a slower year than hoped -- but not a bad one.