A judge in Denver Tuesday overturned a state Board of Health decision last week that medical marijuana caregivers must do more than simply provide marijuana to qualify as caregivers. Denver District Judge Larry Naves voided the decision, saying the board had violated state open meeting laws and ignored the needs of patients.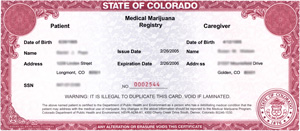 The board held an emergency meeting last week with less than one day's notice to respond to a state Court of Appeals ruling that a woman who provided marijuana to a registered patient did not qualify as a caregiver under the law. That move outraged medical marijuana supporters, who immediately filed suit to block the move.
Attorney Richard Corry filed the lawsuit. He argued that the board failed to provide adequate public notice of the meeting and that the Court of Appeals ruling applied only to the criminal case in question. Naves agreed.
Naves was harshly critical of the Board of Health and let first assistant attorney general Anne Holton, who was representing the board, know it. "Did this board ever think about the impact on the health of people like these people here?" he asked, referring to a medical marijuana user and provider in the courtroom who had challenged the new requirements.
Holton replied that the board was merely trying to clarify restrictions for providers, and that the action was only temporary while the board came up with permanent standards.
"It's not temporary if you're trying to down 30 pills," Naves retorted, referring to testimony by a patient in an older, related case who said he couldn't keep his numerous medications down without marijuana.
Holton said she did not know if the Board of Health would appeal the decision. It has a December 15 hearing scheduled on the issue.
The dispute comes as medical marijuana is taking off in Colorado. The state now has more than 11,000 registered patients, and this year, dozens of dispensaries have sprung up, first in Denver, but now across the state.