The Amsterdam City Council is considering and is expected to pass an urban renewal measure that will lead to the shuttering of one-third of the cannabis coffee shop in the city's famous Red Light district. Known as the Coalition Project 1012, after the postal code for central Amsterdam, the plan is designed to re-purpose and clean up the city's entryway around Dam Square and the Centraal Station.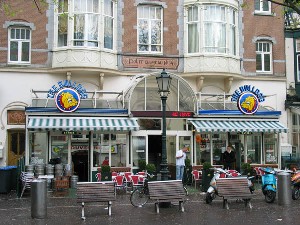 The project aims to combat the "general degradation" of the area, break up organized crime groups, and diminish the size and concentration of "criminogenic" activities -- those which generate crime. The famous coffee houses are targeted not because they are violating laws, but because supplying them with the merchandise has evolved into a task that is now handled primarily by organized crime groupings.
That, in turn, is a consequence of the incomplete nature of the Dutch's "gedogen" (pragmatic tolerance) approach to marijuana sales. While the Dutch tolerate the formally illegal sales of small amounts of marijuana at the coffee houses, there is no provision for supplying them. The Dutch tolerate the personal growing of up to five plants, but with the amount of cannabis consumed in the coffee house market, it would take an army of personal growers to supply them. As a result, and also because of tough enforcement of the personal grow laws, the provision of cannabis to the coffee houses has become the purview of organized crime.
Amsterdam currently has 226 coffee shops, 141 of them in the Centrum district, and 76 of them in the 1012 postal code including the Red Light district. Under the plan, the 76 Red Light district coffee shops will be reduced to 50 and the number city-wide to 192. The shops that must close will be given one three-year extension by this fall, and then must go out of business. Another dozen coffee shops may have to close because they are too close to schools.
The number of Amsterdam coffee shops peaked at 350 in 1997 and has been in decline since then. Some have been closed for violating the regulations surrounding them. But municipal authorities for the past decade have also been applying a "die-off" policy in areas where they think the concentrations are too high. In those areas, if a coffee shop goes out of business for any reason, the permit is withdrawn and cannot go to a new owner or operator.