Maryland Gov. Martin O'Malley Tuesday signed into law a bill that will require law enforcement SWAT teams to regularly report on their activities. The bill was largely a response to a misbegotten drug raid last July in Prince Georges County in which Berwyn Heights Mayor Cheye Calvo and his family were doubly victimized -- first by drug traffickers who used their address for a marijuana delivery, then by Prince Georges County police, who killed the family's two pet dogs and mistreated Calvo and his mother-in-law for several hours.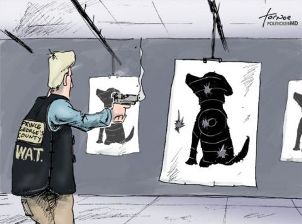 The bill, the
SWAT Team Activation and Reporting Act
(HB 1267), requires all law enforcement agencies that operate SWAT teams to submit monthly reports on their activities, including when and where they are used, and whether the operations result in arrests, seizures or injuries.
"It is meaningful to us that something good has come out of the terrible tragedy of last summer," Berwyn Heights Mayor Calvo told the Washington Post. "Hopefully, it will be a first step in being able to better police our communities."
The case attracted national outrage and remains politically potent in Prince Georges County, a majority black suburban Washington, DC county that has long suffered from heavy-handed policing. Prince Georges County Sheriff Michael Jackson and the county police have yet to apologize to the Calvos for the raid, although they acknowledge the Calvos were not involved in drug trafficking. The Sheriff's Office investigated itself and unsurprisingly found it had acted appropriately. An FBI probe of the incident may come to different conclusions.
StoptheDrugWar.org, publisher of this newsletter, last week released an online video highlighting the Calvo case and calling for SWAT team use to be limited to emergency situations.