Marijuana aficionados and reform supporters took to the streets of more than a hundred towns and cities across the globe last weekend in phase one of the annual Global Marijuana March.
The march, first organized in New York City in the 1970s, has since grown into a massive international event. This year, some 263 cities on every inhabited continent are listed as holding the marches.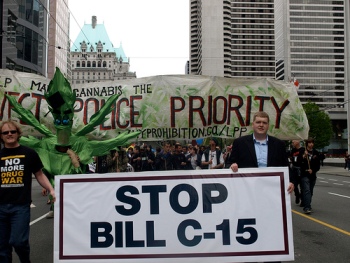 Typically held the first weekend in May, the event this year was broken up into two weekends, largely to accommodate Europeans, where the May Day labor celebrations are taken far more seriously than in the US (where May 1 is not Labor Day, but
National Law Day
).
Finland
was the exception there, with a march in Helsinki last weekend drawing at least 300 people, and events in Tampere and Turku drawing about 200 people each.
But on this side of the water, marchers took to the streets in cities like Portland and Philadelphia, which both drew about a thousand people, among the largest crowds of the day. In San Francisco, where 15,000 people gathered last year, crowd size -- if not spirits -- was dampened by drenching downpours all day.
The marches also hit middle America, if in smaller numbers. In Champaign, Illinois, hundreds marched, while in Cincinnati a similar crowd gathered. In Ogden, Utah, 30 lonely cannabis supporters rallied together, while Palm Springs, California saw a few dozen marchers.
Things were a bit livelier in Canada, with some 15,000 people gathering in Toronto and a thousand more in Vancouver. Even Edmonton, way out on the northern plains of Alberta, drew several hundred participants.
"It was fantastic, we had a lot of people show up here in Vancouver," said Jeremiah Vandermeer, production editor for Marc Emery's Cannabis Culture magazine, one of the organizing foci for the marches. "It was a great march. The Liberals were having their convention here, so we marched on that shouting that they need to stop C-15, the Conservative bill that would impose mandatory minimum sentences even for growing one plant."
When asked why Canadian cities appeared to be able to generate larger turnout than American ones, Vandermeer made several points. "Canada has a very strong cannabis culture, we have a lot of organizers who have been working very hard for years, Marc Emery included, of course, and our newspapers are very friendly," he said. "They promote the marches before they even happen, and that's a big help."
While the US has its cannabis friendly elements and its veteran organizers, too, it does not generally have a press that is willing to provide free publicity beforehand for the marches. Nor, with the exception of the two groups mentioned below, do the marches garner any meaningful support from drug reform organizations. And, unlike the case in some European cities that draw huge crowds, events here have not drawn sponsors willing to put up cash to publicize the marches.
In some cities, events are organized by independent activists. In others, local chapters of groups like the National Association for the Reform of Marijuana Laws (NORML) and Students for Sensible Drug Policy (SSDP) take the lead. But in all cases, the size and success of the events is determined largely by local resources and talent.
"With some legitimate organization ahead of time and funding and promotion, perhaps these turnouts would be bigger, but as it stands now most of these US efforts are loosely organized at best, said NORML's Paul Armentano. "And perhaps culturally Americans are not as likely to take to the 'streets' as are their counterparts in other countries like Venezuela and Greece."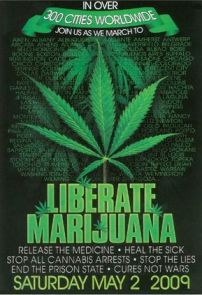 Cures Not Wars
is the primary US-based organizing focus for the Global Marijuana March. It does what it can, but its resources are limited.
"We at Cures Not Wars provide material and logistical support for the marches," said Douglas Greene, one of the group's cofounders, along with Dana Beal, the man present at the beginning. "But that support is basically limited to providing posters and contact lists, things like that. We don't have money to hand out to make them happen, so these marches are primarily financed by what the local grassroots people can do," Greene said.
"I think the 4/20 events just a couple of weeks before the marches may drain energy and resources from the marches," said Greene. "Press coverage helps, but unlike Canada, we don't have prior coverage here in any city I can think of."
Greene pointed to some of the European cities, such as Rome, Athens, London, and Berlin, that regularly see crowds of thousands or even tens of thousands. "In Berlin, where the events rival the size of the Boston Freedom Rally, they have at least 10 major sponsors. We don't get that in this country," he pointed out.
Greene also said that perhaps the drug reform community should rethink its disdain for the marches. "These have evolved into an expression of the cannabis community, and it's unfortunate that they haven't become something the broader drug reform community has come together on," he argued. "Here in New York City, we had a lot of kids chanting 'We smoke pot and we like it a lot!', and while that is not going to necessarily change the law, at the same time we always have people who come up to us who are really interested in learning and changing the laws. These marches are going to happen no matter what the reform community thinks; it seems like it would be a good idea if we could work together and attract some serious people and try to educate those people who show up."
The marches may not be politic, there may be too many tie-dyed t-shirts, too much hair, and an uncomfortable number of young-looking public tokers, but the marches aren't going away and they are an authentic expression of cannabis culture. Perhaps the different strands of the movement will find a way to move closer together.