Charles Lynch expected to be sentenced to a mandatory minimum federal prison term Monday for operating a medical marijuana dispensary legal under state and local laws, but it didn't happen. Instead, US District Court Judge George Wu postponed the proceedings, telling prosecutors he wanted more information about what appears to be a Justice Department change of heart and policy regarding such prosecutions.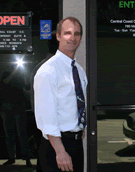 Last week,
Attorney General Eric Holder said the Justice Department would only prosecute medical marijuana providers who violated both state and federal law
. Lynch's case is one where he was clearly in compliance with state law in operating his Morro Bay dispensary.
Under Bush administration policy, which did not recognize any distinction between medical and non-medical marijuana, California dispensary operators were targeted for DEA raids and federal prosecutions with no regard for their compliance with state laws. Prosecutions like those of Lynch, who was found guilty in federal court last August, generated loud and boisterous solidarity movements, protests, and scorn toward the federal government.
Judge Wu said he did not believe the apparent change in policy would affect Lynch's conviction, but he said he wanted to consider any new information about the policy change before he imposed sentence on the 47-year-old Lynch.
Federal marijuana law calls for mandatory minimum sentences in cases involving more than 100 pounds or plants, as was the case with Lynch. We can only hope, given the apparent turnaround in federal policy, that Judge Wu finds a way to make his sentence fit the new reality.