One week after Attorney General Eric Holder said the federal government would not raid or prosecute medical marijuana providers unless they were breaking both state and federal law, DEA agents Wednesday evening raided Emmalyn's California Cannabis Clinic in San Francisco. The clinic is a cooperative operating under temporary city permits as it completes the city licensing process and thus, apparently legal under state law. Now, medical marijuana providers and activists don't know what federal policy really is.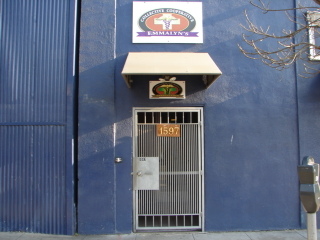 The raid on Emmalyn's was done by the DEA only -- no state or local law enforcement was involved -- and the DEA, typically tight-lipped, has not explained how or whether Emmalyn's was in violation of state law.
"Because so little information has been released thus far, we have more questions than answers," added Aaron Houston, director of government relations for the Marijuana Policy Project. "But with an actual shooting war along our Mexican border, not to mention federal law enforcement there being so overwhelmed that traffickers coming through the border with up to 500 pounds of marijuana are let go, it's very hard to believe that this is the best use of DEA resources, especially in a city with an active program to license and regulate medical marijuana providers."
"It's déjà vu all over again at the Justice Department," said Stephen Gutwillig, California state director of the Drug Policy Alliance. "The ink's barely dry on the Obama administration's kinder, gentler approach to medical marijuana, and the DEA is up to its old tactics. San Francisco sets the standard for medical marijuana dispensary regulation. Surely, state and local authorities are capable of policing their own system, just as the feds surely have more pressing issues to address."
"It is disturbing that, despite the DEA's vague claims about violations of state and federal laws, they apparently made no effort to contact the local authorities who monitor and license medical marijuana providers," said MPP California policy director Aaron Smith. "For an agency that for eight years said it couldn't care less about state law to suddenly justify raids as an effort to uphold state law simply doesn't pass the smell test."
Holder has twice made remarks suggesting a shift in federal policy toward medical marijuana providers in states where it is legal, but only in response to direct questions. He has not issued an unsolicited policy statement or issued any policy directives.
"Attorney General Holder needs to be specific about when federal law enforcement will and will not harass medical marijuana patients and their providers," said Bill Piper, director of national affairs for the Drug Policy Alliance. "The Justice Department needs to prioritize. Even if a medical marijuana patient or provider is in technical violation of some state law or regulation, that doesn't mean the federal government should be wasting scarce resources arresting people over it. Doesn't the Obama Administration have more important issues to deal with right now?"