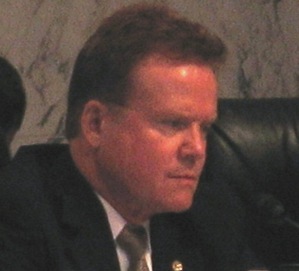 US Sen. Jim Webb (D-VA) yesterday introduced
a bill that would create a commission designed to overhaul the US criminal justice system
. The bill would create a commission that would have 18 months to do a top-to-bottom review of the criminal justice system and come back with concrete, wide-ranging reforms to address the nation's sky-high incarceration rate, responsd to international and domestic gang violence, and restructure the county's approach to drug policy.
"America's criminal justice system has deteriorated to the point that it is a national disgrace," Webb said in introducing the bill. "Its irregularities and inequities cut against the notion that we are a society founded on fundamental fairness. Our failure to address this problem has caused the nation's prisons to burst their seams with massive overcrowding, even as our neighborhoods have become more dangerous. We are wasting billions of dollars and diminishing millions of lives. We need to fix the system. Doing so will require a major nationwide recalculation of who goes to prison and for how long and of how we address the long-term consequences of incarceration."
Opening with an all too familiar litany of ills plaguing the US criminal justice system-- skyrocketing incarceration, the imprisonment of nonviolent drug offenders, the negative effects of drug prohibition -- the bill calls on the commission to make specific finding regarding:
Reasons for increase in the US incarceration rate compared to historical standards;
Incarceration and other policies in similar democratic, western countries;
Prison administration policies, including the availability of pre-employment training programs and career progression for guards and prison administrators;
Costs of current incarceration policies at the federal, state & local level;
The impact of gang activities, including foreign syndicates;
Drug policy and its impact on incarceration, crime and sentencing;
Policies as they relate to the mentally ill;
The historical role of the military in crime prevention and border security;
Any other area that the Commission deems relevant.
Sen. Webb is also looking for policy change recommendations on drug policy, reentry programs for ex-offenders, prison reforms, and how better to deal with international and domestic criminal organizations.
That Webb should introduce such a sweeping bill comes as little surprise given his history of interest in the field. In 2007, he led a Joint Economic Committee hearing on mass incarceration, and last year, he led another Joint Economic Committee hearing on the economic cost of drug policy, as well as returning to the theme on various other occasions.
The bill does not yet have a number.