From murder most foul to ripping off Crimestoppers, our corrupt cops run the gamut this week. Let's get to it: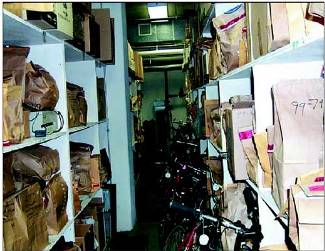 In New York City,
a former NYPD narc who resigned last year in the face of corruption charges was arrested Monday
in the shooting death of his ex-girlfriend. Former officer Jerry Bowens, 43, was one of five officers arrested last year in a scandal in which they were accused of taking drugs and cash they had seized and using it to pay a confidential informant. After those arrests, the Brooklyn District Attorney's Office dismissed charges or vacated convictions in 183 cases involving those officers. That investigation is continuing, but probably now means little to Bowens, who is facing a murder charge.
In Philadelphia, a jailed former Philadelphia police officer was charged March 3 with plotting from his jail cell to assault two suspected drug dealers he believed were cooperating with authorities against him. Former officer Malik Snell is in federal detention awaiting retrial on charges he participated in an attempted robbery of a drug house and ripped off other drug dealers. He is now accused of threatening "to inflict bodily injury" on the two men he suspected were government witnesses. He also is accused of stealing $40,000 in cash at gunpoint from one of the men.
In Vivian, Louisiana, a Vivian police officer was arrested last Friday on charges he bought a stolen gun on the street and sold it back to a drug dealer when he found out it was stolen. Officer James Arthur, 34, went down after one of four rifles reported stolen in nearby Shreveport in March 2008 turned up in a drug raid in November. The Caddo Parish Sheriff's Department investigated and found out that Arthur had bought the gun, a Bushmaster XM15 assault rifle worth $1,250, for $300 on the street, but had then resold it to a "known drug dealer" after checking a national firearms registry and seeing it listed as stolen.
In Erie, Pennsylvania, a former Erie police lieutenant was sentenced March 4 for repeatedly stealing cocaine from the department evidence locker. Robert Liebel, 47, had pleaded guilty in January to nine misdemeanors for the 2007 and 2008 thefts. He was sentenced to at least 77 days in prison and between nine and 22 months on house arrest, plus three years probation. Liebel admitted stealing the coke for his personal use.
In Lebanon, Ohio, a Warren Correctional Institution guard was charged March 5 with trying to sneak 200 grams of marijuana into the prison. Guard Stephen Howard, 49, was arrested two days earlier after being caught trying to smuggle the dope inside hollowed-out markers and a Subway sandwich. He faces charges of attempting to convey drugs onto the grounds of a detention facility and possession of criminal tools, both felonies.
In Jacksonville, Florida, a Jacksonville Police narcotics detective was fired Wednesday over his role in a Crimestoppers hot-line scam. Detective James Narcise was accused of providing inside information on the location of criminals to a female friend, who would then use it to collect the reward money. The department apparently took that offense more seriously than his fatal shooting of an 80-year-old man during a drug sting in 2007. He was cleared of any wrongdoing in that case.