American states spent about $52 billion on corrections last year, the vast majority of it on prisons, and that's not smart, the Pew Center on the States said in a report released Monday. As a cost saving measure in a time of fiscal crisis at the statehouses, states should instead emphasize spending on community corrections.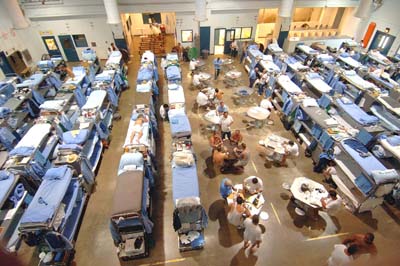 The study,
1 in 31: The Long Reach of American Corrections
, reported that one in every 31 Americans is in jail or prison or on probation or parole. That's more than 7 million people under state supervision, and that's more than double the rate 25 years ago. The report adds that the real figure may be closer to 8 million because the numbers don't include people under state supervision in pre-trial diversion programs, such as drug courts.
The rates of correctional control vary by race and geography. One in eleven black adults (9.2%) are enjoying the tender mercies of the state, compared to one in 27 Hispanics (3.7%) and one in 45 whites (2.2%). With one of every 13 adults behind bars or on probation or parole, Georgia has the highest percentage of its population under surveillance, followed by Idaho, Texas, Massachusetts, Ohio, and the District of Columbia.
"Violent and career criminals need to be locked up, and for a long time. But our research shows that prisons are housing too many people who can be managed safely and held accountable in the community at far lower cost," said Adam Gelb, director of the Center's Public Safety Performance Project, which produced the report.
But while prisons account for about 90% of the overall correction budget in the states, two-thirds of offenders are on probation or parole, not behind bars. Pressures to cut community corrections spending in the current crisis are penny wise but pound foolish, said the report.
"New community supervision strategies and technologies need to be strengthened and expanded, not scaled back," Gelb argued. "Cutting them may appear to save a few dollars, but it doesn't. It will fuel the cycle of more crime, more victims, more arrests, more prosecutions, and still more imprisonment."
The study recommended that states:
Sort offenders by risk to public safety to determine appropriate levels of supervision;
Base intervention programs on sound research about what works to reduce recidivism;
Harness advances in supervision technology such as electronic monitoring and rapid-result alcohol and drug tests;
Impose swift and certain sanctions for offenders who break the rules of their release but who do not commit new crimes; and
Create incentives for offenders and supervision agencies to succeed, and monitor their performance.
The report did not address the role of drug prohibition in swelling the nation's prison population, nor did it question whether drug offenders should be arrested in the first place, let alone placed under state surveillance or imprisoned.