The mayors of the Dutch border towns of Roosendaal and Bergen op Zoom confirmed Thursday that they will shut down all marijuana selling coffee shops in their towns by September 16. They said that by closing the coffee shops they hoped to end the public nuisances created by an influx of some 25,000 non-Dutch pot buyers a week.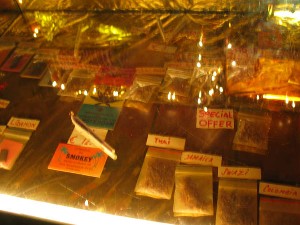 Because of more repressive laws in neighboring countries such as France and Germany, Dutch coffee shops have been a favorite haunt of pot seekers in northwestern Europe. But the huge numbers of foreigners coming to the border towns has created traffic, public order, and other problems. Mayors of other border towns have responded with plans to move coffee houses from city centers to the outskirts.
The conservative Dutch national coalition government, while desiring to see an end to the coffee shops, has committed to taking no action until after new elections in 2010. That leaves the regulatory field to the mayors.
An attorney for coffee shop owners said there was little he could do until coffee shops are actually closed down. "But if you want to change drug policy, you first need to discuss it nationally and also check EU law if you want to discourage European tourists," said Harrie Nieland.