US Attorney General Eric Holder said Wednesday that the gap in sentences for crack and powder cocaine offenses must go. Holder's remarks came as he addressed a legal discussion sponsored by the Congressional Black Caucus.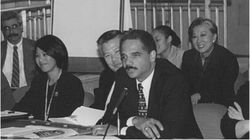 Under federal sentencing laws in place since the mid-1980s, five grams of crack cocaine earns a five-year mandatory minimum sentence, but it takes 500 grams of powder cocaine to earn the same sentence. This 100-to-1 disparity has hit black defendants the hardest. According to US government figures, 82% of federal crack offenders are black and only 9% white.
Pressure has been building for the past decade to reform those laws and reduce or eliminate that disparity. The notion has broad support even in Congress, but faces a perilous path among competing bills and competing notions about how the disparity should be addressed -- eliminate it completely, lower the ratio, or even increase powder penalties -- and how broadly the entire federal sentencing structure needs to be reformed.
Holder made it clear where the administration stands. "One thing is very clear: We must review our federal cocaine sentencing policy. This administration firmly believes that the disparity in crack and powdered cocaine sentences is unwarranted," Holder said. "It must be eliminated."
That's a stark contrast with the Bush administration, which fought hard to maintain the current cocaine sentencing structure despite opposition from the US Sentencing Commission, drug and criminal justice system reform advocates, an increasing number of prosecutors and judges, and an increasing number of legislators.