In a press release last Friday, Rep. Barney Frank (D-MA) announced he has introduced a bill that would decriminalize the possession and not-for-profit transfer of small amounts of marijuana. It was the second marijuana bill of the week for Frank, who a couple of days earlier introduced the Medical Marijuana Protection Act.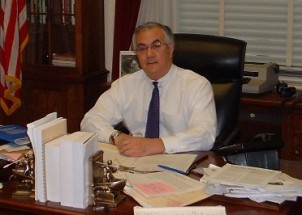 Titled the
Personal Use of Marijuana By Responsible Adults Act of 2009
(H.R. 2943), the bill would remove federal criminal penalties for the possession of less than 100 grams (about 3.5 ounces) and for the not-for-profit transfer of up to one ounce. The bill would not change marijuana's status as a Schedule I controlled substance, would not change federal laws banning the growing, sale, and import and export of marijuana, and would not undo state laws prohibiting marijuana.
"I think John Stuart Mill had it right in the 1850s," said Congressman Frank, "when he argued that individuals should have the right to do what they want in private, so long as they don't hurt anyone else. It's a matter of personal liberty. Moreover, our courts are already stressed and our prisons are overcrowded. We don't need to spend our scarce resources prosecuting people who are doing no harm to others."
"Congressman Frank's bill represents a major step toward sanity in federal marijuana policy," said Marijuana Policy Project director of government relations Aaron Houston. "The decades-long federal war on marijuana protects no one and in fact has ruined countless lives. Most Americans do not believe that simple possession of a small amount of marijuana should be a criminal matter, and it's time Congress listened to the voters."
As of the middle of this week, the bill had five cosponsors: Reps. Tammy Baldwin (D-WI), Maurice Hinchey (D-NY), Ron Paul (R-TX), Jared Polis (D-CO), and Dana Rohrabacher (R-CA). The bill has been referred to the House Judiciary Committee and the House Energy and Commerce Committee. No word yet on any hearings.
Ten states have already decriminalized the possession of small amounts of marijuana. Those states are California, Colorado, Maine, Minnesota, Mississippi, Nebraska, Nevada, New York, North Carolina, and Oregon. In an eleventh, Alaska, the possession of up to an ounce in one's home is not just decriminalized, it's legal.