In April, two Thai citizens, Sureeya Wuttisat, 45, and Asan Tong, 47, were sentenced to death in Malaysia after being convicted of trafficking about 40 pounds of marijuana. The sentence may be an outrage, but it is not a fluke. At least 16 countries in Asia apply the death penalty for some drug offenses, and an equal number in the rest of the world, including the United States, do, too.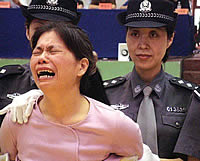 Today is the United Nations'
International Day Against Drug Abuse and Illicit Trafficking
, and in recent years, China has taken to marking it by executing drug offenders. This year, China got off to an early start,
killing six people for drug offenses yesterday
. Last year, Indonesia joined China in the gruesome festivities, as it, too, put drug offenders to death.
This year, a consortium of human rights and harm reduction organizations are using UN anti-drug day to challenge the resort to the death penalty for drug offenses. Human Rights Watch, Amnesty International, the International Harm Reduction Association, and the Anti-Death Penalty Asia Network (ADPAN) have joined together to call on Asian governments to end the death penalty for drug offenses.
The groups say they do not know how many people are sentenced to death or executed because many countries in the region do not make available information on the death penalty. But a perusal of the archives of the anti-death penalty group Hands Off Cain shows that so far this year, a minimum of 69 people have been executed for drug offenses and 14 more sentenced to death.
If these publicly available accounts accurately reflect who is being sentenced to death or executed and where, Iran is by far the leading drug war executioner. (Reports from China, the other likely drug execution leader, are rare.) So far this year, Iran has executed at least 59 people for drug offenses, with China reporting eight, and Saudi Arabia two. During this same period, seven people have been sentenced to death for drug offenses in Malaysia, six in China, and one in Vietnam.
The executions and death sentences come even as the world moves toward restricting or abolishing the death penalty. Last year, only 25 countries carried out executions. And they come despite any evidence that they have any impact on drug trafficking or consumption. As the UN itself noted in 1988, 1996, and 2002, "research has failed to provide scientific proof that executions have a greater deterrent effect than life imprisonment. Such proof is unlikely to be forthcoming. The evidence as a whole gives no positive support to the deterrent hypothesis."
Countries using the death penalty for drug offenses are also violating UN human rights standards. The UN holds that the death penalty should be imposed only as an "exceptional measure" for "the most serious crimes" where "there was an intention to kill which resulted in the loss of life."
Building on a campaign to end the death penalty for drug offenses by the IHRA's HR2 (harm reduction and human rights), ADPAN, Amnesty International, Human Rights Watch and the IHRA are using UN anti-drug day to appeal to Asian governments to:
Introduce an immediate moratorium on executions with a view to the abolition of the death penalty in line with UN General Assembly resolution 62/149 and 63/168 on "moratorium on the use of the death penalty";
Commute all death sentences, including for drug offenses;
Remove provisions within their domestic legislation that allow for the death penalty for drug offenses;
Abolish the use of mandatory sentencing in capital cases;
Publicize statistics on the death penalty and facts around the administration of justice in death penalty cases; and
Use the occasion of Anti-Drugs Day 2009 to highlight public health policies that have proven effective in reducing drug-related harms.
"The problem with the death penalty for drug offenses is that it plainly violates international law," said Human Rights Watch's Rebecca Schleifer. "The UN rapporteur has made it clear that the death penalty for drug offenses violates international human rights law."
In many countries with the death penalty for drug offenses, Schleifer noted, judicial processes are faulty and due process is lacking. In some of them, including Malaysia and Singapore, the death penalty is mandatory in some drug cases, again a violation of international standards for fair trials.
Not only does the death penalty for drug offenses not deter potential offenders, it works against reducing the harms of drug use, Schleifer said. "Our work has found time and time again that excessive punishments and repressive drug law enforcement actually drive people away from life-saving health services," she observed.
"The movement against the death penalty is one that has been long fought and one that is clearly moving in the direction of international abolition," said IHRA's Rick Lines, the author of a 2007 IHRA report on the death penalty for drug offenses. "Yet for many years, the specific issue of the death penalty for drugs has been largely invisible, both within the drug reform movement and the anti-death penalty movement. But now we are seeing a shift in that, with many more people and organizations speaking out, not only on the basis that the death penalty for drugs violate international law, but also that it epitomizes an enforcement-centered approach to drug policy that is a failure in every respect."
Today's joint statement is significant, said Lines, because it brings together major international human rights and harm reduction organizations. "This shows the potential of the death penalty issue to build bridges and working relationships between these two important movements," he said. "That will only enhance the prospects for policy and legislative change. Clearly, no government is likely to change policy before people start making those demands. We now hear those demands becoming louder and more focused."
"Government attitudes do change," said ADPAN's Andrew de Cruz, citing the abolition of the death penalty in Burundi and Togo in the last few weeks, Vietnam's reduction in the number of death penalty offenses, and changes in death penalty practices in China. He might well have also cited Iran, which despite its high number of drug executions, has hinted that it wants to reduce executions overall.
"For these changes to continue it is important to ensure we convey the messages that the death penalty violates human rights and that it does not help deter crime," de Cruz said. "When it comes to drug offences, we can make further arguments that the death penalty for drug offenses is illegal under international human rights law, and that it has actually been counterproductive to policies known to help prevent some of the harmful health consequences of drugs to individuals and societies."
Applying pressure to individual countries is only part of the campaign, said Schleifer. "We would like all of the UN human rights agencies as well as the UN Office on Drugs and Crime to speak out definitively against the use of the death penalty as a violation of international law," she said. "Last year, UNODC came close when it talked about asking states to reconsider the use of the death penalty for drug offenses, but we would like to see them step up and recognize what international law says."
Last year, the UN General Assembly issued a resolution calling for a moratorium on the death penalty, Schleifer noted. "We would like to see the UN repeat that," she said. "Not just the General Assembly, but also UNODC joining publicly."
The campaign against the death penalty for drug offenses is well underway, but it still has a long way to go. If you are reading these words on UN anti-drug day, you know that the ritual state murders to mark it have already begun.