Rhode Island will become the third state in the nation to enact a dispensary system to distribute medical marijuana to seriously ill patients after the state Senate joined the House in passing S185, the Edwin O. Hawkins and Thomas C. Slater Medical Marijuana Act by veto-proof margins. As of Thursday afternoon, the bill was on the governor's desk.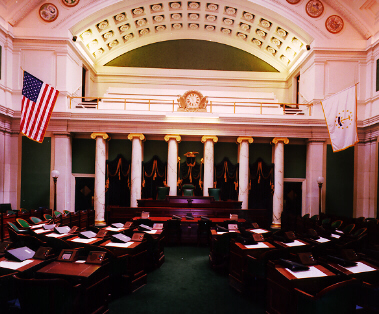 Gov. Donald Carcieri (R) has been a consistent foe of medical marijuana, vetoing bills in previous years. But with the Senate voting 30-2 to adopt the measure and the House voting 64-4 in favor last week, a Carcieri veto should be easily overridden.
The measure would permit three dispensaries to operate to sell marijuana to medical marijuana patients. Nearly 700 patients have registered with the state Department of Health since legislators approved a medical marijuana law there in 2006.
Under that law, Rhode Islanders suffering from chronic pain, seizures, multiple scleroris, severe nausea, or Alzheimer's are allowed to possess up to 12 plants and 2.5 ounces of marijuana. But the law carries no provision for patients unable or unwilling to grow their own medicine to obtain it elsewhere.
While 13 states have medical marijuana laws on the books, only two of them, California and New Mexico, allow for dispensaries.
"The Rhode Island Statehouse is on the cutting edge of helping people with severe health care problems," said Sen. Rhoda Perry (D-Providence), sponsor of the Senate bill. "Now patients will not be subjecting themselves to any harassment because we will have a well-regulated mechanism that will grow and distribute the marijuana."
The push for the dispensary legislation in Rhode Island was led by the Rhode Island Patient Advocacy Coalition and the Marijuana Policy Project.