Rhode Island is poised to become the first state to expand an existing medical marijuana law to allow for the operation of dispensaries after the House Wednesday gave final approval a bill that would do just that. The bill passed by a whopping -- and veto-proof -- majority of 64-4.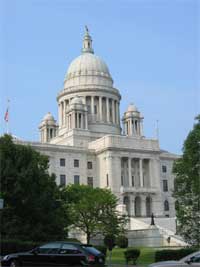 The bill,
SB 185
, now goes back to the Senate for final approval. The Senate earlier approved its version of the bill by a margin of 35-2 and is expected to easily pass the final version next Tuesday.
Gov. Donald Carcieri, no friend to medical marijuana, is likely to veto the bill. But given the overwhelming vote in favor of the bill, an override vote seems destined to succeed.
The bill would allow up to three dispensaries to grow and sell marijuana to patients in the state's medical marijuana program. The 2006 bill legalizing medical marijuana in the state -- after the legislature overrode a Carcieri veto -- did not have any provision for providing marijuana for patients.
The push for the bill was led by the Rhode Island Patient Advocacy Coalition and the Marijuana Policy Project.