For hundreds, if not thousands, of years, residents of the Horn of Africa and the southern Arabian Peninsula have partaken of khat, an evergreen plant native to the region. When the fresh leaves of the plant are chewed, they produce a mild stimulating effect. Friends of the plant liken the high to the buzz achieved from drinking strong coffee; foes, typically in law enforcement, are more apt to liken it to an amphetamine high.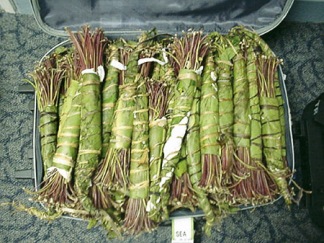 But with decades of war and internal strife in the late 20th Century, an East African diaspora occurred, with Ethiopians and Somalis scattering and creating new immigrant population centers across Europe, Australia, Canada, and the US. Not surprisingly, these emigrants brought with them their khat chewing habit.
Khat is not illegal under international law, although two of its active compounds are. Cathinone, the more powerful, is a Schedule I drug under the 1988 UN Convention on Psychotropic Drugs, while cathine, the less powerful, is Schedule IV. Cathinone is found only in fresh leaf, degrading rapidly once the plant is harvested.
With growing awareness of khat in recent years, a number of countries, including the US, have banned the plant. Here, fresh khat containing cathinone is a Schedule I controlled substance, the same schedule as heroin or LSD. Degraded khat containing only cathine is a Schedule IV controlled substance, like Valium, Librium, or Rohypnol.
Alongside the federal government, 28 states have criminalized khat. Washington, DC, home to one of the nation's largest East African communities, is not among them -- yet. Under current DC law, cathinone is not a controlled substance and people caught in possession of fresh khat face no local penalties. Oddly enough, the less powerful alkaloid cathine is a controlled substance under DC law, and possession with intent to manufacture or distribute carries a prison sentence of up to three years.
Last fall, at the urging of DC US Attorney Jeffrey Taylor, Mayor Adrian Fenty (D) introduced a proposal to criminalize fresh khat as a Schedule I drug, as it is under federal law. The DC City council is currently considering the proposal as part of its 2009 Omnibus Crime Bill and is likely to act on the measure before its session ends July 15.
"It's sad that they want to put the resources of crime fighting against individuals from a different culture who don't have anybody except their community and try to punish them for doing what they have always done," said Abdul Aziz Kamus of the DC-based African Resource Center. "It seems like DC wants to punish hard-working immigrant taxi drivers who are law-abiding citizens."
Kamus related the tale of an immigrant taxi driver who sought help from his office a few months ago. "This guy was a father of four, and he was terrified because they caught him buying khat and he had to go to court," he said. "He said: 'I didn't commit any crime, I bought this leaf to chew while I work 16 hours to support my family.' Why should the government want to punish him?"
Good question. The answer appears to be a combination of reflexive prohibitionist responses to new drug challenges, concerns about the impact of khat use on family life among elements of the East African community, and so far unsubstantiated fears that profits from the khat trade may be flowing into the hands of Al Qaeda-linked Islamic radicals in Yemen and Somalia.
"Law enforcement has intercepted fresh khat coming into the city, and it made sense to change the statute to reflect the more serious drug," Assistant US Attorney Patricia Riley told the Washington Times when the measure was introduced last fall. District law should be consistent with federal law, she said, adding that the potency of cathinone warranted the schedule bump.
DC Metro Police Detective Lorenzo James, who works narcotics and special investigations, told the Times that while he had not been able to develop evidence of khat profits funding terrorists, he was still suspicious. Khat traders in DC are using hawalas, or informal money transfer systems common to South Asia and the Middle East that have been tied to terrorists in the past, James said. "The money is not being kept here," he said.
Detective James was all for toughening the khat laws. "Why lock them up when you get a slap on the wrist for a schedule IV that the attorney's office does not want to prosecute?" he said. "I can tell you when you get it to a Schedule I, a lot of things are going to change."
Those reasons are not good enough for opponents of the measure, who are mobilizing to block it. Various groups and individuals have submitted testimony in a bid to kill it in the council's Judiciary Committee.
"We've learned from past examples that prohibiting a drug doesn't necessarily change use patterns; it just ensures that more folks go to jail or prison," said Naomi Long of the Drug Policy Alliance DC Metro program. "The primary users of khat are the East African community, and the people who would be impacted would be people from the East African community, who used it in their home countries much as we consume coffee here," she added.
"There is no evidence that recreational use is spreading among non-East Africans," said Long. "The use is based in the East African culture, and the idea that we have to clamp down on it to prevent its spread when it's not spreading is just silly," she added, deflating one argument for increased criminalization of the plant.
Long also challenged the alleged terrorist connection. "I don't think there has been any documented direct link showing a connection between khat users in the US and funding terrorism," she said. "We need to take a thoughtful approach to how we criminalize drugs here, given past experience."
"The federal government is talking about whether terrorist organizations are using the khat trade for cash money," noted Kamus. "If they are really worried about that, they should make it legal and regulate it and tax the people who sell it."
Kamus added another point. "It is the terrorist link they are talking about. They are not trying to say it causes crime or violence. It doesn't."
But that's not stopping the push to more deeply criminalize the plant. Taxi drivers' wake-me-up or terrorist drug threat? If we leave it up to the law enforcers and their cronies in government, we know what the answer will be.