Last month, Drug War Chronicle reported that cannabusinessman and dispensary operator Richard Lee, creator of Oaksterdam and founder of Oaksterdam University, had assembled a team of activists, attorneys, political consultants and signature-gathering pros for an initiative to tax and regulate marijuana in California they hoped to place on the November 2010 election ballot. Drug reform organizations were apprehensive, however, worrying the proposed initiative was too soon, the polling numbers weren't high enough, and that a loss could take the steam out of the legalization push for years to come.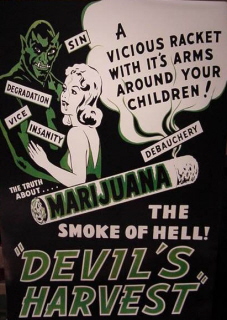 Lee has pushed forward, such concerns notwithstanding; on Monday he and Oakland medical marijuana pioneer Jeff Jones filed the
Regulate, Control, and Tax Cannabis Act of 2010
.
And then there were two. On July 15 -- two weeks prior, but with less heraldry -- a trio of NORML-affiliated Northern California attorneys filed the Tax, Regulate, and Control Cannabis Act of 2010.
To avoid confusion, we'll refer to the second as the Omar Figueroa initiative (coauthored by Joe Rogoway and James Clark) and the first as the Richard Lee initiative.
"Cannabis prohibition, like alcohol prohibition, is an expensive and ineffective waste of taxpayer money," said Figueroa.
"California's laws criminalizing cannabis have failed and need to be reformed," said Lee. "Cannabis is safer than alcohol. Cannabis doesn't cause overdose deaths or make people violent like alcohol. It makes sense to regulate cannabis like alcohol, instead of prohibiting it completely."
The Figueroa initiative is broader and would bring complete legalization under state law, while the Lee initiative would create semi-legalization, allowing adults to possess up to one ounce and grow their own in a 5' x 5' garden space. The Figueroa initiative would allow the state of California to tax marijuana sales, while the Lee initiative would allow cities and counties to tax marijuana sales. The Figueroa initiative would end marijuana prohibition statewide, while the Lee initiative would give cities and counties the local option to tax and regulate or not, but would also provide that people could still possess and grow the specified amounts even in locales that opt out of regulating.
"Our initiative repeals cannabis prohibition; Richard's just narrows the scope," said Figueroa, a San Francisco attorney specializing in medical marijuana and marijuana cultivation cases. "People would not be free to possess more than one ounce and there would be limitations on growing your own. And our initiative is going to have that big economic impact statement for the state budget that Richard's will not," he said.
"We worked for many weeks with Richard on his initiative, and we support both, but we think ours would result in more far-reaching change and would generate money for the state through tax revenues," Figueroa added. "We want to stimulate debate and provide an alternative to Richard's initiative, which we don't think would create enough change."
The initiative effort is moving forward and preparing to begin signature-gathering, said Figueroa, but its prospects are iffy. "We don't have the deep pockets Richard has," he said.
Lee has signed a $1.05 million contract with a signature-gathering organization and says he has already raised half of that sum. "We are confident we will be on the ballot," he said. "Then we need to raise another $10 to $20 million to win, depending on the opposition."
The initiatives come as the noise level around marijuana legalization in California grows ever louder. An April Field poll put support for legalization at 56%. Gov. Schwarzenegger said this year that the issue should be discussed, and the state Board of Equalization's estimate that legalization could generate $1.4 billion in revenue for the state has generated considerable interest. That estimate was a response to a bill before the legislature, Rep. Tom Ammiano's AB 390, which would legalize marijuana and allow the state to tax it.
Meanwhile, voters in Oakland last week overwhelmingly supported a special dispensary tax, another Richard Lee effort. And now the Los Angeles city council is considering doing the same thing.
The Figueroa initiative would appear to have more appeal to hard-core marijuana legalizers, but the Lee initiative has more money behind it and is more likely to actually make it to the ballot. That is making the Lee initiative the subject of more discussion as to its likelihood of passage. That discussion in turn has opened a window on just how complex the issues around legalization are, how difficult it is to create a "perfect" legalization initiative, and how difficult it is to decide if this is the time to act or whether it would be premature.
The major national marijuana and drug reform groups are generally skeptical that a legalization initiative can win in California in 2010. They also worry about the impact of a defeat on the movement.
"We're concerned about the timing and we're not sure it's the best worded initiative," said Dan Bernath, assistant communications director for the Marijuana Policy Project. "It is getting the conversation about marijuana policy reform going, but we're concerned it could set the movement back if it loses. We're more interested in Ammiano's bill," he said.
"We would like [the Lee initiative] to win," said Steven Gutwillig, California State Director for the Drug Policy Alliance, whose funding of Proposition 215 helped make medical marijuana legal in the state, "and we're not that concerned that losing would be an enormous setback to the movement unless it really loses big. We are looking to end marijuana prohibition as quickly and effectively as possible, and if this is the way to do it, we're all for it."
But unlike the Prop. 215 effort, DPA will be cheering from the sidelines. "We're not an official proponent of this and we're not in a position to fund a campaign of this scale anytime soon," said Gutwillig. "We're still relatively fresh from the $7.5 million campaign to pass Proposition 5 sentencing reforms, which didn't go the right way."
Lee is optimistic, and he thinks that now, rather than 2012 as others have suggested, is the time. "We have poll numbers that show a majority, and we have the terrible economy working for us," he said. Lee pointed to the budgetary crisis afflicting California cities and counties, which lost big in the latest state budget. "The governor and legislature stole a bunch of money from the cities and counties, and this could help them recoup some of the money they're losing," Lee argued.
Dale Gieringer, head of California NORML, worries the lack of a provision for taxation directly by the state will hurt the initiative at the polls, even if the potential revenues for counties and cities are equivalent. "The state always writes a financial analysis on initiatives, and I suspect this one will say uncertain or none." Gieringer pointed to the Board of Equalization's $1.4 billion estimate. "The tax benefits make this a sexy issue, and sacrificing that sacrifices most of the appeal of legalization to non-users."
Still, if it's happening, CANORML will support it. "We support anything that improves the marijuana laws," said Gieringer. "There is a lot of enthusiasm right now, and people want to do something for legalization."
"Omar Figueroa and Richard Lee are both pushing the envelope," said national NORML head Allen St. Pierre, who was more sanguine about the effort than MPP or DPA, though only slightly. "These initiatives are a good thing; I just don't know if they will be successful. Even if they aren't, they will move the ball forward on the public discussion of the issue. When we have public discussions about reform, the longer and deeper the discussion, the more it breaks toward reform."
The Lee initiative in particular is a harbinger of things to come and demonstrates changing dynamics within the California marijuana reform movement, said St. Pierre. "What is really changing drastically is that this will be driven by cannabusinesses' ability to raise and spend money, not by one or two elite wealthy people whose stake in this is magnitudes less than say, Richard Lee, who has created Oaksterdam."
There is another reason for the local option, said Lee. "It gets us around federal law. We don't have any other way until federal law changes because the state would be in conflict with federal law. But we had cities taxing medical marijuana outlets; that's why we wrote it that way."
Will the competing initiatives both make it to the ballot? If they do, can they win? Will it fly in Fresno? Will the threat of an initiative spur the legislature to act on the Ammiano legalization bill? Stay tuned. It looks like very interesting times are ahead.