US war planes dropped bombs on a 300-ton pile of opium poppy seeds in southern Helmand province Tuesday afternoon. The US military dropped 1,000 pounds on the pile of seeds, then followed up with strikes from helicopters to make sure they were really dead.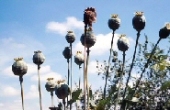 The publicity stunt was designed to win hearts and minds of Afghan poppy farmers, a State Department official told CNN. "There is a nexus that needs to be broken between the insurgents and the drug traffickers," State's Tony Wayne said. "Also, it is part of winning the hearts and minds of the population because in some cases they are intimidated into growing poppies."
The US has recently shifted its approach to poppy cultivation in Afghanistan, which supplies more than 90% of the world's opium and its derivative, heroin. The US is ending support for eradication programs and instead targeting drug traffickers, especially those linked to the Taliban, which is estimated to earn hundreds of millions of dollars a year from the black market industry.
The US and its NATO allies are also trying to win over poppy farmers through alternative development programs. But those programs are difficult to put in place in areas outside the effective control of the Afghan government or Western military forces.
The attack on the seed pile comes as US and NATO forces are enduring their bloodiest month yet in the nearly eight-year-old invasion and occupation of Afghanistan. According to the war casualty monitor I Casualties, 63 Western troops have been killed so far this month, making it far and away the deadliest in the war. The previous monthly highs were 46 each in June and August 2008.