The Obama administration has shifted gears in Afghanistan, rejecting the Bush administration's emphasis on opium poppy eradication in favor of attacking Taliban-linked drug trafficking networks as it increases the number of US military personnel in the country to nearly 70,000. Along with that increase in American servicemen and women in Afghanistan, the administration is also ramping up the DEA presence in the country.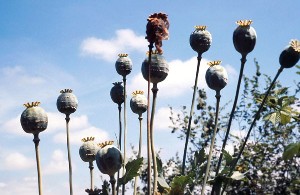 The number of DEA agents in the country will increase five-fold this year, according to a report in the
Baltimore Sun
. The agency currently has 13 agents in Afghanistan; that number will jump to 68 by September and 81 by 2010. An unspecified number of additional agents are also being sent to Pakistan, through which a large portion of the Afghan drug trade flows.
Afghanistan produces more than 90% of the world's opium poppy supply, from which heroin is derived. One province now in the sights of a 4,000 strong US Marine expeditionary force, Helmand province, by itself produces more than half of all Afghan opium and if it were its own country, would be the world's largest opium supplier.
While all factions in Afghanistan have their fingers in the poppy pie, including numerous officials and warlords linked to the Karzai government, the US and NATO are especially interested in disrupting those portions of the drug trade that help finance the Taliban insurgency. The Taliban is estimated to make hundreds of millions of dollars a year from taxing poppy crops, acting as armed escorts for drug caravans, and running international drug trafficking operations.
In the past, the Taliban has benefitted from eradication campaigns in at least two ways. First, to the extent such campaigns are successful, they drive up the price of opium, which the Taliban has abundantly stockpiled. Second, the eradication campaigns have proven a fertile recruiting tool for the Taliban as farmers angry at seeing their livelihoods destroyed look to join those who ostensibly oppose eradication.