Holland's famous cannabis coffee shops should become "members only" to serve local communities and prevent "drug tourism," a commission set up to advise the Dutch government recommended last week. It also suggested the country experiment with legalizing the supply of cannabis to those coffee shops.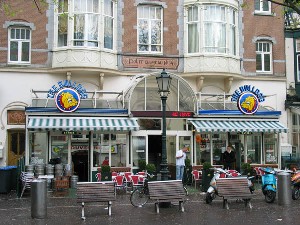 "Coffee shops should again become what they were originally meant to be: vending points for local users and not large-scale suppliers to consumers from neighboring countries," said the body. "In some aspects, the situation has gotten out of hand," it added.
The retail sale of cannabis through licensed coffee shops has been tolerated -- though technically still illegal -- since 1976. There are currently some 700 coffee shops, each of which can keep 500 grams of cannabis on hand. While popular, the coffee shop system has come under increasing pressure, with critics citing the aforementioned drug tourism, as well as the development of organized crime links in the cannabis trade.
The "members only" policy is already set to go into effect in the border province of Limburg, and two other border councils, Roosendaal and Bergen-op-Zoom, responded to drug tourism by simply closing all their coffee shops last fall.
Under the Dutch system, while the sale of cannabis is permitted, its production to supply the tolerated coffee shop market is not, leading to the "backdoor problem," where coffee shops are forced to deal with illegal growers and traffickers. The commission recommended experimenting with legalizing the supply chain for the coffee shops in a bid to solve the backdoor problem.
The commission's report will form the basis for a government reevaluation of drug policy, which is due to be presented to parliament in September, Justice Ministry spokesman Wim van der Weegen told Agence France-Presse.
But at least one influential Dutch newspaper, NRC Handelsblad, said the commission's proposals are untenable. In an editorial last Friday, the newspaper argued that as a member of the European Union, Holland can neither exclude foreigners from the coffee shops nor legalize cannabis production for commercial purposes. The solutions to Holland's "drug problem" lie not in the Hague, but in Brussels, the editorial said.