In its glory days, the Copenhagen neighbourhood of Christiania was known as the place to go to purchase cannabis. It even had a "Pusher Street" where vendors sold their wares. But a conservative Danish government cracked down on Christiania's hash sellers in 2003, and six years later, the Copenhagen city government is starting to wonder whether that was a mistake.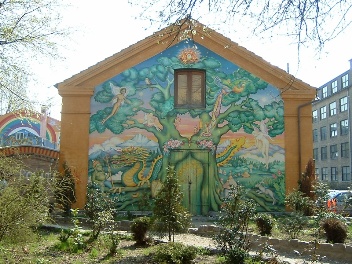 The City Council's Social Affairs Committee has issued a report on cannabis policy and is calling on the council to seriously consider decriminalization as a means of reducing gang violence. Since the crackdown on Christiania, the hashish trade has been pushed out into the rest of the city, with police admitting that much recent gang violence is linked to the geographical expansion of the trade.
The report called on the council to consider decriminalization as "a possible alternative" to prohibition. It found that cannabis prohibition has neither lessened use rates nor reduced crime related to its sale. It also noted that "easy access to cannabis has not been shown to lead to more users or addicts."
The report was largely based on the Global Cannabis Commission Report published by the British Beckley Foundation. That report sought "more rational and effective" approaches to cannabis control.
The go-ahead for the report came in February, when the Social Democrats, the largest party on the council, joined with the Social Liberals, the Red-Green Alliance, and the Socialist People's Party to approve it. The three smaller parties already backed the legal sale of cannabis in small quantities for personal use, or "the Amsterdam model," but the Social Democrats are not willing to go that far.
According to the Copenhagen Post, a recent poll found 59% support for Amsterdam-style cannabis cafes. Still, Social Democrats social affairs spokesman Thor Gronlykke told the newspaper his party would only support a model that aims to limit the number of abusers and addicts.
The Red-Green Alliance is ready to go much further. It has long supported the Amsterdam model and has campaigned for cannabis to be legalized and sold as freely as alcohol and tobacco are now.
"It's completely ridiculous that police use more time and energy looking for clumps of cannabis at Christiania than they do finding the people behind human trafficking," wrote Mikkel Warming, deputy mayor for social affairs, on the party's website. "The legalization of cannabis would get rid of a huge part of gangs' income base."
Decriminalization is also supported by Liberal Party council candidate Lars Dueholm. If he wins a seat on the council, decriminalization would become even more likely.
"For me there are two important reasons to decriminalise cannabis," he said. "One is the fact that we're pouring millions, if not billions, of kroner into gang pockets because they're the only ones selling hash when it's illegal."
Still, even if the Copenhagen City Council approved decriminalization and/or cannabis cafes, the measure would have to win approval by the Danish parliament.