The Oregon House Monday passed SB 676 by a veto-proof margin of 46-11. The measure would allow for the production, possession, and commercialization of industrial hemp and its products. The measure passed the state Senate on June 19 an equally veto-proof 27-2 margin.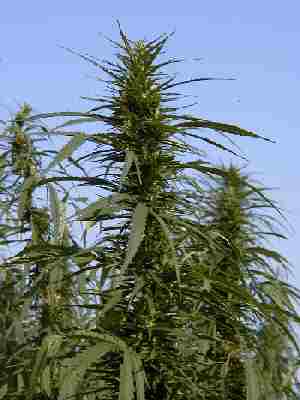 During the House debate, hemp supporter Rep. Jules Bailey (D-Portland) used visual aids to demonstrate the diversity of hemp products, waving around bags of hemp tortilla chips and non-dairy hemp milk. He also held up a t-shirt emblazoned with the words "Senate Bill 676 is about rope, not dope."
"I am glad that Oregon has joined the list of states that have agreed that American farmers should have the right to reintroduce industrial hemp as an agricultural crop," said bill sponsor Sen. Floyd Prozanski (D-South Lane and North Douglas Counties). "By passing SB 676 with strong bipartisan support, the Oregon legislature has taken a proactive position to allow its farmers the right to grow industrial hemp, to provide American manufacturers with domestically-grown hemp, and to profit from that effort."
The industry association Vote Hemp said it was confident Gov. Ted Kulongoski (D) would sign the bill. If he does, or if a veto is overridden, Oregon will become the ninth state to authorize industrial hemp production under state law. It remains forbidden by federal law.
"The time has come for the federal government to act and allow farmers to once again grow hemp, so American companies will no longer need to import it and American farmers will no longer be denied a profitable new crop," said Vote Hemp president Eric Steenstra. "Under current federal policy, industrial hemp can be imported, but it cannot be grown by American farmers. Hemp is a versatile, environmentally-friendly crop that has not been grown in the US for over fifty years because of a misguided and politicized interpretation of the nation's drug laws by the Drug Enforcement Administration (DEA). While a new bill in Congress, H.R. 1866, is a welcome step, the hemp industry is hopeful that President Obama's administration will recognize hemp's myriad benefits to farmers, businesses and the environment," he added.
"We are looking forward to the opportunity to invest in hemp processing and production locally," says Hans Fastre, chief executive officer of Living Harvest, one of the numerous hemp product companies based in Oregon. "This bill represents another step towards heightening the hemp industry's profile within mainstream America and making hemp products more accessible to businesses and consumers."
If the bill becomes law, Oregon will become the second state to approve industrial hemp this year. Maine did so last month. Four other states, Montana, New Mexico, Vermont and North Dakota passed resolutions or memorials urging Congress to allow states to regulate hemp farming this year.
The states that have okayed hemp production are Hawaii, Kentucky, Maine, Maryland, Montana, North Dakota, Vermont and West Virginia. North Dakota has even issued licenses to would-be hemp farmers for the past two years, but the federal prohibition has prevented any hemp planting.